Improving dental health for the poor
Bronwyn Chester | That the poor have worse teeth than the rich is no surprise in a society that doesn't consider teeth and gums to warrant public health insurance. As anyone without dental insurance knows, dental intervention can easily cost an individual or family hundreds of dollars.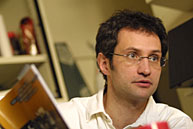 Owen Egan
Even those members of the poor who receive social assistance and so have coverage for basic dental care (including consultations, fillings, extractions and full and partial dentures) tend to see the dentist only in times of emergency. With Montreal's population of roughly 150,000 welfare recipients, this leaves many people with chronic dental disease, pain and, for those with lost or broken teeth, disfigurement.
This situation bothers Christophe Bedos. His trajectory from Parisian dentist to professor in the Faculty of Dentistry, hired last July, is testament to his desire to help people and to improve the practice and public perception of his profession.
Bedos cut his teeth in public health dentistry in Burkina Faso and Cameroon where he worked intermittently with Aide Odentologique Internationale (AOI), dentistry's answer to Medecins sans frontières, while maintaining his practice in Paris. "I felt unuseful in the Paris suburbs," he says, going on to describe his work with AOI. "We built a dental office in a hospital, trained nurses in the countryside in basic dental interventions and I organized an education program. I would go into schools every day showing kids how to care for their teeth."
"One of the last projects [in Burkina] - and probably the most useful, was to find a way to produce toothpaste locally," said Bedos, explaining that toothpaste could be found only in the cities, imported from India or China.
Through his graduate studies at the Université de Montréal and a post-doctorate at McGill, Bedos looked at improving the dental health of those with limited access to dentists, conducting a study of the dental needs of Haitians for his MSc and, for his PhD, one on how Quebecers use dental services.
"There is a question of social class," he said, referring to his survey of 10,000 Quebecers. "Poor people go to the dentist when in pain. I showed that the poorer you are the less you see the dentist."
Bedos' post-doc work, published last year in Social Science & Medicine, involved in-depth interviews with 16 people receiving welfare in order to understand their experience of dentists. What Bedos discovered was that, despite access to free basic dental care, barriers remained. "Some were afraid. They dread the injection and the environment, which often makes them feel stigmatized for being poor or having poor dental hygiene."
"They have a difficult relationship with dentists. They find that they don't understand their problems, don't care about them," he continued.
One of the participants interviewed, for instance, wanted to have a root canal but couldn't immediately pay for the procedure. Her dentist would not accept partial payments. Ultimately, she, like so many in that situation, had the tooth pulled. Contrary to the popular notion that the poor prefer to have their teeth pulled, Bedos and his research associates found that "they accepted it because they thought it was the best solution for them, for financial or medical (to avoid further pain) reasons."
Bedos also found that low income people are prepared to put up with pain for a long time, using analgesics, sometimes crushed and applied directly to the gum, and alcohol to get by. Seeing the dentist is a last resort.
Now that Bedos has heard the point of view of low-income patients, he's preparing to interview a sample of dentists to get their side of the story. He believes it would help the dentist—welfare-recipient relationship if coverage were increased to include most services. "It's unacceptable to have so many people suffering. I think poverty is linked with dental health," he says pointing out that visibly bad teeth and living with chronic pain detract from one's sense of well-being and confidence.
He concedes that despite Quebec's anti-poverty law — a rare law in industrialized societies, he notes — "It's hard to make a link between [research] papers and politics." Nevertheless, the Faculty of Dentistry, which has several preventive and treatment programs aimed at those with little access to dentists, is organizing a conference on poverty and dental health. Members of the government are invited.
In the meantime, Bedos, is transmitting to his students the notion that, "we don't treat teeth, we treat people."
"'The hands, the hands,' we always say about dentists. Dexterity is important but it's not enough to be a good dentist. We have to learn how to empathize with our patients, to listen and to communicate more effectively."