In focus
Jennifer Robinson: McGill is the message
Read anything good about McGill in the news lately? Chances are Jennifer Robinson helped put it there. She's just stepped into the newly created job of associate vice-principal (communications) at McGill, which means she focuses her keen vision on how McGill communicates messages and image.
Owen Egan
Robinson is a seasoned communicator, having worked in the news business and public relations for more than 20 years. She started out as a cub reporter at the Edmonton Journal as its first female sports writer, but soon returned to Montreal to work for The Gazette. There she covered other types of sports — the world of politics, constitutional issues and social affairs, including health and education issues — covering the National Assembly and Parliament Hill before moving into the management ranks of the newspaper.
In 1993, Robinson was named Editorial Page Editor where she steered the paper's editorial policies through the heady times of the 1995 Quebec referendum and aftermath. "It was a highly charged, emotional period for Quebec, which thankfully has been put to rest," she understates, and her even-handed touch won the respect of both sides. Robinson later served as Associate Editor and managed special projects such as the publication of best-selling books, including The Ice Storm and Montreal's Century.
Fluently bilingual, Robinson moved on in 2000 to work as a senior consultant at Canada's largest public relations firm, National Public Relations. "It was a fantastic experience to work in a French milieu, one that is so dynamic. It was an education, both in personal and professional terms," she said.
"Journalists are observers, analysts. Public relations is about managing how things are observed and analyzed. It is really about managing reputation," she said. "The skill sets of journalism and public relations complement each other. It's especially rewarding for me to be able to put them to work for such a worthwhile organization as McGill."
In her new job, Robinson is part of the university's senior administrative team, responsible for the development and implementation of a university-wide marketing and communications plan. Reporting to the principal and the vice-principal (development and alumni relations), she will ensure the coordination and integration of communications materials and consistency of message and image in building relationships with alumni, donors, business leaders, the media, government and other stakeholders.
"McGill is unique. Everywhere you turn, there are talented and accomplished people who, each in their own field, are looking to make the world a better place," she said. "Whether it is to find a cure for cancer, or develop a better strawberry or robot that swims, or ways of building smaller computers, there are great stories here."
Robinson plans to raise McGill's profile within Quebec and to increase efforts to make McGill better known and appreciated in its home province. On a larger scale, McGill operates in an increasingly competitive environment, nationally and internationally, and it faces communications challenges in terms of attracting adequate funding, the best professors and the brightest students. "The rest of the universities in North America are not standing still, and as excellent as McGill already is, we must further enhance the university's reputation and profile."
Robinson is part of a three-generation McGill family. Her dad was a McGill graduate and Rhodes scholar, and her daughter, Cassy, is completing a double BSc in biology and math (Robinson beams that Cassy was named again this year most valuable player of the women's tennis team).
Robinson studied at McGill in the '70s, and she credits the university experience with opening her eyes to the world. "I became politicized here, and curious about the world." She was the news editor and managing editor of the Daily — which back then really was a daily — and with Daniel Boyer, who is now the Wainwright Librarian, founded the McGill Daily Français (now Le Delit).
"I love McGill, and I appreciate it even more today. Anyone in communications would be delighted to work for an institution with such a fine reputation. It's great to have such a jewel to work with."
It's a brand embodied in a person, and the brand took a huge hit.
Grad research: Culinary upstairs downstairs
Lara Pascali, Masters in Architecture in Domestic Environments (recently changed to Cultural Landscape), supervised by Annmarie Adams, is looking at the phenomenon of Italian–North American homes with two separate kitchens: an upstairs one and one in the basement. Growing up half-Italian in Toronto, she didn't question the two-kitchen households she saw, but as she got older and realized this set-up wasn't found in Italy or among non-Italians, she wondered about the practice.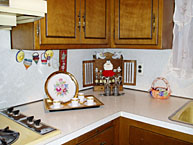 Generally, the basement kitchen is where the family eats meals, where food is prepared and where all major holidays like Christmas or Easter are celebrated. This is also where all the canning and "messy" labour-intensive food activities like making tomato sauce or sausages happens.
In contrast, the upstairs kitchen is kept in pristine condition; it's generally nicer, newer and it's where all the "good stuff" is kept: the good dishes, the good cutlery. It's like a museum piece that almost never gets used.
Some people will host their guests in the upstairs kitchen, because it's nicer and it's more formal; but not always. Sometimes if you're not Italian or unfamiliar, you stay upstairs; if you're Italian or familiar, you go straight downstairs.
When I was in Brooklyn, I was in a house where I was first taken upstairs, but was then moved downstairs to have coffee. Taking me upstairs first was their way of showing me respect as a guest, but their kitchen upstairs wasn't even equipped to make coffee. And there's generally more space in the basement, so it's much more accommodating.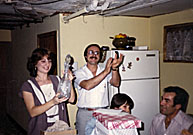 Some people link this second kitchen to the idea of "making it" in the new country, having the luxury of a space that is just "for show," a symbol of your success.
I've also been struck by how emotional the responses are to the second kitchen. One woman told me that the basement was her "freedom," an emancipative space. But one girl who grew up with this set-up really hated the whole idea of eating and living in the basement. There's a tension between first and second generations, and generally this is unique to first-generation Italians, and doesn't continue with their children.
Everybody knows the stereotypes about Italians: they eat a lot, they make wine, they're warm, friendly; but nobody knows the rest of the story. Italian "culture" is often presented as this static, immutable thing, and yet people change with immigration and traditions take on new forms — I'm fascinated by what happens when people move to a new place, how people will adapt to their new environment and what is created from this interaction, such as the home with two kitchens.
In the greater public sphere, Italians are about food, pasta, fashion — a happy picture. My topic explores the tensions that this set-up creates between first and second generations.
"Vernacular" architecture is seen as secondary to high art, but I think you can derive so much about our social and cultural contexts simply by starting from where you are. Also, architectural historians have focused predominantly on white, middle-class America, paying very little attention to the working classes and other ethnic groups. The domestic environment is far from homogenous.
Pascali has done fieldwork in Montreal, Toronto and in other parts of North America, and is looking for more kitchens. You can contact her at larapascali@hotmail.com.
I had an Alouettes football player, and his BMI was 35. That would have placed him as obese, but he was all muscle.