Epstein scores
Mark Reynolds | Most professors would be livid if a student were to take a cellphone call in the middle of class. Music professor Steven Epstein was willing to make an exception at least once last month.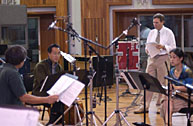 Epstein had been nominated for a Grammy Award for classical producer of the year. Rather than flying out to sunny Los Angeles for the ceremony, the New York—based producer was in Montreal, sharing his professional knowledge with McGill students.
When the results of the pre-televised ceremony were posted on the web, someone called one of Epstein's students in class with the news that he'd won.
"If I wasn't going to be in L.A., certainly being at McGill was the next best thing and it was nice to share the accolades and the fun with the students," said Epstein.
The award was his sixth for producer of the year, and 11th overall. With such a collection of hardware, one would suspect the process would be old hat for Epstein. He said it never gets boring. He has attended the ceremony in years past, but was too nervous to enjoy the rush of dinners and parties nominees go through before and after the ceremony.
Winning — which he never expects — has its own unique stresses. After being escorted offstage, Grammy winners are taken to the press rooms.
"It's very funny — you're escorted to a room where there are 50 photographers and you're on a stage and you feel like Miss America — either that or King Kong. Then you're escorted to another room, which is the press room, and you stand in front of a microphone waiting for them to ask you questions, but they're waiting for the superstars. It's actually rather sad, because of the lack of interest, not just in classical production, but in classical music in general."
Epstein credits his success in part to his longevity — he's been working as a producer for 30 years. In that time he's collaborated with such luminaries as Wynton Marsalis, Yo Yo Ma and Itzhak Perlman. He's also recorded with the Vienna, Berlin and New York Philharmonic Orchestras among many others. And though he is largely a classical music producer, he's produced jazz, musicals and soundtrack recordings as well.
"When you're working with someone like Yo Yo Ma, Wynton Marsalis, Midori, Isaac Stern, the exposure certainly helps get your name known, and hopefully your albums will be successful with the many listeners who purchase them," he said.
He calls recording a major philharmonic orchestra — with multiple soloists and two full choirs performing a major symphony — "the ultimate producer's experience," but smaller projects have their rewards as well: "You're working with the greatest repertoire in the world, with the greatest artists in the world."
Epstein, an adjunct professor with the Faculty of Music, hardly needs to make the commute to McGill several times a year from New York. But his belief in the sound recording program run by Wieslaw Woszczyk keeps him coming back — that, and the genuine pleasure he derives from working with McGill students.
"There's nothing more enjoyable than sharing your knowledge and experiences with students who are in a program because they love recording and they love music. They absorb so much of what you're telling them and they have so much to offer as well," he said.
"The McGill program is, in my experience, the best program for preparing students for the real world of recording engineering or producing or other aspects of the medium."
The proof? Epstein has worked with McGill grads Rob Bradley and Richard King. And don't just take Epstein's word for it — King also won a Grammy this year for Best Engineered Classical Album.