From Paris to the Moon
Mark Reynolds | Classes aren't even over, but Eric Chan, Nikkie Lu and Vincent Trépanier are already preparing for their make-up exam. The three haven't been skipping classes; rather, they are North American finalists in an online business case competition sponsored by cosmetics giant L'Oréal.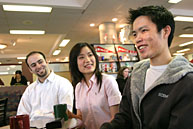 Owen Egan
Their business savvy and hard work have already won the trio a trip to Paris on April 20, where they will present the business plan for their virtual business to the top executives of L'Oreal in their head offices.
The three students have been working on the L'Oreal E-Strat challenge since November, when Lu - a finance student - first heard about it through the Management Faculty's career centre. She signed up herself, Chan and Trépanier - without telling the other two.
"I found out I'd been signed up when I got an email from L'Oréal - I didn't know what this was about," said Chan ruefully.
Lu selected her teammates well. The three have very different disciplines: Trépanier is a computer engineering student, while Chan is studying finance and German history.
"I thought about Vincent because he's very creative, while Eric is very careful with his analysis," said Lu.
"And for every idea they had I'd always be asking 'why?' I was the reality check."
The game was a long one, and it isn't over yet. Over 10,000 teams —each with three members - applied. An online quiz narrowed that down to 1,000. The teams did not compete directly with each other; instead, they worked in a simulation competing against computer-generated "companies."
Their job was to manage a portfolio of products in the virtual world, in which they had to balance revenue, research and development and marketing budgets. Over the five rounds, of the competition, their stock price would vary according to the amount, and demographic, of customers they appealed to.
After all that, they managed to place second in North America in the undergraduate category. But it wasn't over - they still had to produce a business plan.
"The goal of the business plan was not just to explain where we want to go, but also to show we actually knew what we were doing all along, and that it wasn't just a fluke," said Trépanier.
The team spent their entire spring break preparing their plan, which was to be presented to the local L'Oréal headquarters. The hard work paid off. After the semifinals they jumped to first place in North America in the undergraduate category - 13 points above the nearest competitor. Next step: Paris. Lu's face lights up at the mention of the city, but she's a little nervous.
"You present in front of all their executives, in a big, round boardroom," she said.
"It's a bit like the scene from Star Wars where all the representatives from all the planets are in the senate - and you're there, right in the middle."
Nonetheless, the team is ready to go, and enjoying the "real world" experiences.
"They really try to make this like the real thing - we're flying in there overnight, and we'll all be jet-lagged, but we have to go right to work for a 10-hour day," said Trépanier.
Getting a flight to Paris is already a nice perk, and all three plan on travelling within Europe after the presentation (Lu said her main motivator for all the work she put in was being able to get some real Belgian waffles). If they win, they each will receive an
all-expenses-paid trip anywhere in the world. Trépanier has his eye on Australia, while Lu doesn't yet know. And Chan? He laughs.
"I want to go to the moon."