Chambers to be MCRTW Person of the Year
Balbir Gill | Gretta Chambers is about to join a very select group of indiviuals. The McGill Centre for Research and Teaching on Women (MCRTW) will name her as 2004's Person of the Year on April 26 during a gala evening that aims to raise funds to found a chair in Women's Studies.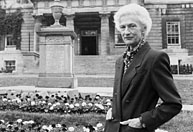 James Seely
Chambers, who initially became known for her journalism work in print and radio, became McGill's first woman chancellor in 1991 and is active in a range of community concerns, from hospitals to education to art.
Previous Persons of the Year were newly selected UN High Commissioner for Human Rights and Supreme Court Justice Louise Arbour, Senator Sheila Finestone, and author Margaret Atwood.
"I was very touched and honoured and I'm quite nervous about it because I don't think I'm at all in the league of these other women," says Chambers.
While Chambers may feel out of her league, Chancellor Richard Pound says anyone "with an iota of intelligence higher than that of dishwater would be familiar with her work. She is a wonderful representative of the university. She was the chancellor from central casting."
Pound remembers that while Chambers was chancellor she had surgery, but was determined to preside over convocations even if she had to hobble around to do it. "I had an emergency hip and femur replacement operation at the end of May," says Chambers, "It was certainly not a graceful gracing of the multiple June convocations, but I managed to do them all propped up on one crutch."
Muriel Gold Poole, chair of Friends of MCRTW, which is responsible for the selection of Person of the Year, says that Chambers was chosen because of her "significant contributions to women as a role model, with her many firsts in broadcasting and journalism, and as a bridge between English and French, in addition to being the first woman chancellor at McGill."
Chambers made history as the first woman chancellor of a Quebec university, but got more than she expected when she started her new job. "I was quite surprised at the amount of support and affection I got from the women's network at McGill.
"There was a press release to announce the appointment and in French I became 'La première chancelière.' Jean Louis Laloy in Translation looked up the word and it was defined as, 'a foot muff,' a 'boîte ou sac bien fourni pour garder les pieds bien au chaud.' He nearly had a fit. He said, 'Stop the presses! Stop the presses! We cannot have this.' He was afraid McGill would be a laughing stock.
"So I went back to being Madame le Chancelier, but the McGill women were determined I was going to be "la". They put in an inquiry to the office de la langue francaise. Five and a half months later the verdict came back that these chancelieres, these foot muffs, were not in very great use anymore and therefore I could be a chanceliere. No one asked me - I kind of liked the idea of a generic term, but I couldn't disappoint them because they cared so much... so I became la chanceliere and now I'm a chanceliere emerite."
Chambers hopes that the Person of the Year 2004 fundraiser will help establish a McGill chair in Women's Studies, "The women of MCRTW do an extremely valuable job and I don't think they've had as much support from the university as they deserve and need. Women's Studies has taken on more importance at other big universities similar to McGill and I think they should find their place here as well."
Shree Mulay, director of MCRTW, says, "We have graduate students, but they are distributed through all departments and they don't leave with a degree that says they have specialized in Women's Studies."
Currently undergraduate Women's Studies courses at McGill are taught by sessionals (professors hired on a course-per-course basis). Mulay points out that this means that there is no continuity between one year and the next. "It is difficult to keep good professors because they tend to get hired away into more permanent positions elsewhere. A chair in Women's Studies would ensure that we have somebody who does the teaching of the core courses. This year we hope that we will raise enough money to convince McGill that it is a worthwhile project and should be on the priority list for the Capital Campaign."
In honour of the firsts that Chambers has accomplished, the event is called "'Ladies' First: A Celebration of Women Who Dare." The evening will highlight McGill women's accomplishments through dramatic readings directed by Gold Poole, who was former Artistic Director of the Saidye Bronfman Centre Theatre. Johanne Schuman, responsible for "The Laundry Room" at last year's event, will present artistic displays based on women's firsts.
While Chambers has earned success, she says she never charted her career path. "I never looked for a job in my life and I never had a plan. Life happened to me. I never had a conventional career - five children in not even six years - I had a husband who ran for Parliament and was usually busy. I did everything at home; I translated, and then I did my radio program. I had my own hours and worked all night sometimes. My life was from one day at a time. I had a goal just to get to the next day."
While she may not be a model for the five-year-plan approach to life, she does have advice for younger people.
"When you go to university, if you are absolutely sure you want to be a lawyer or architect, then do it. If you don't know what you want to be then study something you really like and learn it in depth. Once you've done that you can try to get a job because you have the education that has made you a deeper, more intelligent person.
"The second thing is whatever you want to do, do it well. Once you've accomplished something, it's extraordinary how much more easily the rest comes to you."