Off campus
Showing
Montreal's Maisonneuve magazine is hosting the art show of the season, 8 pm, April 15 at the Société des arts technologiques (1195 St. Laurent Blvd.) The Body and its Derivatives explores one of art's central themes. Curated by Isa Tousignant, the show will feature work from George D. Sellers, Afshin Matlabi, Audrey Davis, Christina Mancuso, Sherwin Tjia, John Zeppetelli and Jody Daniel Ferguson.
The vernissage will feature live music spun by a local DJ, food and refreshments, and explorations of the body's senses through interactive displays. Free massages and an oxygen bar will help put your body in a receptive corporeal state to experience the photos, paintings, sculpture and video on display.
Launching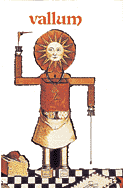 To celebrate spring and their latest issue of the contemporary poetry journal Vallum, Joshua Auerbach and Eleni Zisimatos Auerbach are hosting a reading on Sunday, April 18, at Blizzarts, 3956A St. Laurent, at 7 pm. Poets Stephanie Bolster, Vince Tinguely, James Deahl, Jeffrey Mackie and others will treat the ear to their wily ways with words. A new anthology published by Mekler & Deahl, entitled After the Eclipse, will also be launched.
Admission is free, and copies of Vallum will be offered at a special rate. For more information, call 278-4999 or go to www.vallummag.com.
57 Hours: a survivor's story
The eyes of the world were on Russia when Chechen terrorists took a Moscow theatre audience hostage. McGill MBA student Vesselin Nedkov was one of those trapped inside. Below are excerpts of his book, 57 Hours: A Survivor's Account of the Moscow Hostage Drama, as well as Nedkov's reflections on the experience.
I have certainly never thought of myself as courageous or daring in any way, but I like to think I am level-headed and fairly well-adjusted psychologically. But few experiences in modern life ever really challenge one's self-perception or test all those fondly held assumptions about "strength of character." I found I was not immune to fear or despair, that I was not in control of my emotions when I witnessed people beaten, abused and executed in cold blood. I discovered that I had to keep at bay irresponsible devils goading me to rash decisions and impulsive irrational acts, and that I was consumed with a violent rage against the people who had done this dreadful thing to me. But throughout the ordeal, I believe my salvation was an irrepressible curiosity and a habit of logical, strategic thinking that kept me constantly occupied in trying to work out what exactly was happening at any given moment and what I should best do to prevent my own death, and the deaths of those around me.
Moscow, The House of Culture, 9:00 pm. Wednesday, October 23, 2002.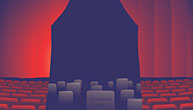 Tzigane
I first caught sight of the armed man out of the corner of my eye a few minutes into the second act. He was a shadow slipping into the theatre from a side entrance, then moving silently toward the stage and jumping lightly, almost soundlessly, onto the apron not far from where Irina and I were sitting. As he stood there in the semi-darkness, I could see that he was wearing new camouflage gear and that he had a Kalashnikov assault rifle slung over his right shoulder.
The man moved quickly to the centre of the stage, firing a deafening volley into the air. The performers stopped dancing. The musicians in the orchestra pit, who couldn't see what was going on, thought that the actors had missed their cue and repeated the phrase—over and over.
Other armed men, about 30 or 40 of them, started pouring into the theatre, moving rapidly along the aisles in the semi-darkness, spreading out around the audience, and in the balcony too, men in camouflage and masks. But more shocking than the men were the women who were with them. There were about 20 of them, and they wore dark clothes, padded jackets, trousers and high boots, and their faces were hidden behind black shawls wrapped around their heads so that only their eyes showed. They were carrying grenades and each of them was armed with a pistol. They quickly took up positions at regular intervals around the perimeter of the audience.
One of the men on stage shouted for our attention: "We are from Chechnya," he yelled in accented Russian, holding up his Kalashnikov. "There's is a war going on there. We've just brought this war to Moscow!"
There was no panic, just a shocked silence as the musicians, who had finally realized that something was wrong, stopped playing. The single note of a violin lingered in the air like a tiny scream, then silence.
Some of the men started unloading packages and handing them out to the women. I watched with horrified fascination as the women fastened them with tape to big Russian military belts, then buckled the belts around their waists. The packages were clearly homemade bombs, stuffed with small pieces of metal - mostly nails and ball bearings - that would turn into a hail of lethal projectiles if the bombs went off.
The terrorists ask their hostages to identify themselves by nationality. They plan to release non-Russians and Muslims. Nedkov speaks to a terrorist named Yassir and identifies himself as a Bulgarian living in Canada.
He examined the passport and the landing papers slowly, deliberately taking his time. "Okay," he said at last, handing me back my passport. "Go and sit in the back row. We're going to release you."
I realized that I couldn't leave Irina alone in this. I sat down beside her and asked, in English, if she had her ID booklet with her. She rummaged in her handbag for a moment then whispered, in English, that she must have forgotten it at home. She was worried, but I was relieved. It would make the whole charade that was beginning to take shape in my mind a lot easier.
Without explaining anything to her, I took her by the hand, cautioned her to speak only in English, and led her along the row and down the aisle. Yassir was still there, talking to other foreigners.
When our turn came to speak to Yassir again, I said, almost as if I were introducing her to an acquaintance, "This is my wife. She's Canadian."
He looked at her intently for what seemed like a long time, and my heart sank. I was sure he didn't believe me.
"Her passport," he said.
"The police have it," I replied. "She just arrived a few days ago, and she had to register with the police and they haven't given it back yet." I was hoping he hadn't noticed, or wouldn't remember, that the entry stamp in my passport was dated a couple of weeks earlier.
"She doesn't understand Russian," I added, hoping that would discourage him from trying to talk to her.
Yassir looked nonplussed, as though this was a problem beyond his authority to resolve. He looked around, and I thought he was going to seek advice from someone else. What if I had made a terrible mistake that would cost us both dearly? Then I heard Irina's voice.
"What's going on?" she asked.
Both Yassir and I looked at her. She was smiling, as though she didn't understand how serious things were, but I could feel her hand trembling. "Doesn't she understand Russian at all?" he asked.
"No," I said. "Not a word."
He paused. "Okay," he said at last. "Go to the back row."
The back rows began to fill up as more hostages were brought into the auditorium. Irina and I deliberately took seats as close as possible to the end of the row. There at least we could try to run for it. However, our position also put us practically in the lap of one of the women suicide bombers. If she blew herself up, we'd die along with her. It made no sense to want to sit at the end, but then, nothing was making much sense, so I followed my instincts.
The "sisters" were mostly young, though the woman sitting on a chair nearest to us seemed older and had some kind of authority over the others. She seemed approachable, and so I asked her why they were doing this.
Her response was all the more chilling for being delivered in a flat, emotionless voice: "We are ready to die," she said. "We want to die more than you want to live."
I grew up under totalitarianism, though in Bulgaria things were never as bad as they were in Russia. It is claimed that those dark days of state terrorism and the abuse of power are behind us all. But my experience as a hostage in Moscow only made me realize how fortunate I am to live in a country in which people can make jokes about the armies of post traumatic stress counsellors who are dispatched immediately to the scene of the death of a single child; where, during an epidemic doctors and nurses work round the clock to contain it, and the health authorities hold two or three press conferences a day to keep the public informed, and are still chastised in the press for not doing enough; where separatists are invited to the negotiating table year after year after year and old terrorists end up teaching school. I no longer take any of these things for granted.
I remember that at the very worst moment, when I thought that we were all going to die, I understood that it would be important, if I survived, to try to live well, to treat people with respect and tolerance, not just to prepare for the final accounting when my time or luck ran out, not just for my own family and my own circle of friends, but for the sake of all people, even for those not yet born. I understood that every act of violence, brutality and cruelty, every injustice and every atrocity diminishes and threatens us all, wherever we may be. This is what I learned.