In focus
Ryan Tomicic: Fluid dynamic
Eve Krakow | Every Monday and Friday morning, Ryan Tomicic, a full-time mechanical engineering student at McGill, heads to the pool. He swims from 6:30 to 8:30, does weights from noon to 1:30 and swims again from 4:30 to 6:30. In between, he eats, goes to class and studies. His other days are a bit lighter, with just two practices instead of three. Sundays he has off - and he uses the time to cook his meals for the week.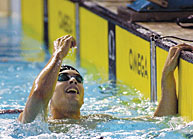 Andrew Dobrowolskyj
Tomicic, 23, has received the D. Stuart Forbes Trophy, awarded to the McGill male student-athlete who has brought the most credit to the university by reason of his athletic achievements. He's also been chosen as the Quebec Students Sports Federation's Male Athlete of the Year, and will represent the province at the Canadian Interuniversity Sports (CIS) banquet in Calgary in May.
Although he's been a competitive swimmer since age 10, Tomicic considers himself a late bloomer in terms of performance. In fact, he gave up the competitive club circuit in his last year of CEGEP. At McGill, however, Tomicic discovered a very different training philosophy from what he'd been used to. "It's quite clear that we're here as students first. [Coach François Laurin] makes that distinction. He also gives you the freedom of being an adult in the sport. He lets you decide to what extent you're committed, and works with that."
This philosophy has enabled Tomicic to thrive. He received the team's Most Improved Swimmer Award in 2001–02 and again in 2002–03. Now the team captain, he has finished the 2003–04 season with 15 gold medals in eight meets, including three at the Quebec university championships and one gold in the 50 metre freestyle at the CIS national championships, where he also won a silver, broke three McGill records and earned all-Canadian honours. Tomicic was also voted team MVP and earned the Performance of the Year Award, given to the swimmer who scores the highest number of points from their two best results.
Balancing training and studying is not easy, he admits: The key is to plan ahead. "The biggest thing for me was how our nutritionist got us to plan our meals. The better you eat, the more energy you have." And, of course, he's had to make certain sacrifices, such as limiting the amount of drinking and late nights.
His biggest challenge now is pushing his limits. "As the training gets heavier, you tend to slow down. You get out of bed slower, you want to sleep in or go out and party. So the challenge is to keep going forward, and to stick to the plan."
That plan is a lot more than jumping in the pool and swimming laps. In fact, his coaches plan the whole year in advance, week by week, day by day, practice by practice. "When I receive my plan for the two weeks leading up to the CIS championships, it's got all our practices. Then our strength coach goes and puts in all our weights, then our meals and our recovery sessions. Then the masseuse puts in our massages. Whatever I achieve is really the product of four people working together."
This mechanical engineering student hasn't figured out what he'll do when he graduates. He's interested in fluid dynamics, but figures there are only a handful of jobs working with computer modelling of flows. And there's not a whole lot of funding for amateur sports in Canada. Ideally, he'd like to do a Master's and continue as a student athlete - if his finances hold out.
For the moment, he's concentrating on the more immediate future. Once school is over, the team heads to France for a four-week training session and to compete in the Mare Nostrum (international swim meet), in preparation for the Olympic trials in July.
What advice does he have for other student athletes? Believe in yourself and trust your own abilities. He also stresses the importance of finding a place where you're comfortable. "If you're not happy with your coach or your situation, then you can't really perform."
I'd have to suspect that there are a lot of physicians that, if they were to go to a week-long bioethics conference or look at the bioethics literature, they would find it completely irrelevant to what they're doing and what they focus on at work.
Designing students
Mechanical engineering students showed off their solutions to real-life problems at their annual Project Design Exhibition, Wednesday, April 7. The event took place in the lobby of the McConnell Engineering building and attracted plenty of onlookers eager to check out what some of McGill's most creative students are up to.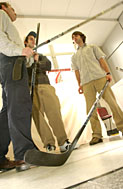 Owen Egan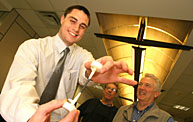 Owen Egan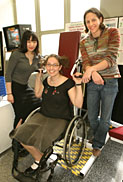 Owen Egan
They've established institutions, but can't afford to turn the lights on.