McGill dining gets a closer look
McGill has decided it needs more time to gather information and consult with students, faculty and staff on how to improve food services across its downtown campus and establish an integrated food services plan.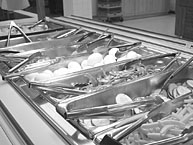 Jennifer Higgins
"We are committed to improving the quality of food served, improving accessibility and enhancing the choices, service, value and atmosphere offered at all locations," said Vice-Principal (Administration and Finance) Morty Yalovsky.
The university will establish a Dining-at-McGill Advisory Committee over the coming weeks, made up of students, faculty and staff, that will be chaired by Yalovsky. They will examine broad issues related to food on the downtown campus, and will complement existing consultations with student associations related to specific locations.
The committee will make recommendations to the university by January 31, 2005, on how best to provide improved service, better choices and quality, more convenient hours, more uniform standards and pricing, better environmental practices, reasonable prices and pleasant surroundings. The committee will consider such things within the context of the optimal number of providers and the environmental, business and philanthropic practices of potential providers.
In the interim, McGill has decided to offer contract extensions to existing food providers until May 31, 2005. Extensions are conditional on individual providers abiding by food safety, hygiene, environmental and administrative practices, as outlined by the university. Providers will also participate in the new comprehensive and integrated food plan for the downtown campus sites.
Currently, there are 16 food service counters and cafés in addition to those in the University Centre, which are operated by the Students' Society under an exclusive contract with a single food provider, and in Thomson House, which is operated by the Post-Graduate Students' Society.
Most food service outlets on the downtown campus are operated by four major providers: Tiki Ming (Fontaine Santé, Vegie-Rama) in the Arts, Education and Music buildings; Pino & Matteo in the Law and Stewart Biology buildings, as well as under separate contract for the Athletics complex; the Residence Food Services in residences, Burnside and McIntyre; and Chartwells in locations including Redpath Library, New Residence Hall, Engineering, Bronfman and Trottier. As well, the McGill Bookstore operates a Starbucks café and an independent provider operates a food counter in the Architecture building.