Living through colorectal cancer
March is National Colorectal Cancer Awareness Month, and freelancer Craig Stein talks about his experience with the devastating disease.
The nurse on the other end of the phone said the diagnosis was "rectal adenocarcinoma." My background is not in science, but in no way did I like the sound of the latter part of that phrase: carcinoma. That was October 2003. Over the course of the next few months, I became a mini expert on what it was like to live with and face the demon of modern illnesses, "cancer," and, in my case, colorectal cancer. As fate should have it, I befriended Andrea Elder, a fourth-year psychology student at McGill. She is also a cancer survivor and fighter who happened to be diagnosed with rectal adenocarcinoma a year prior to me. In its own way, cancer has thrust each of us upon a savage, emotional and physical rollercoaster ride.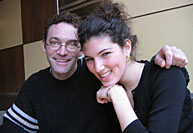 Linda Dawn Hammond
While life for most students is comprised of classes, sports and social activities, as a cancer patient Elder spends a significant portion of her time in the hospital. Says Elder, "I am receiving permanent chemotherapy in an effort to combat metastases to my lungs and liver." With a protruding portocath positioned strategically under her collarbone, cancer and its treatment are doing their best to test her internal fortitude and physical stamina. "For approximately five days following the beginning of each chemo session, I am totally wiped out," says Elder. "I also experience neuropathy [numbing and tingling] in my hands."
My own initiation rite into this crazy cancer carnival involved receiving a temporary ileostomy bag that I'll have for three months. After the removal of my entire colon and rectum in a seven-hour operation, the only way to enable my bowels to function was by obtaining an ostomy bag. A stoma, or part of my small intestine the size of a thumb, protrudes through my belly. An "appliance" (as it is politely called in medical circles) is then taped and snapped shut around the stoma like some makeshift Tupperware kit. I then try to continue some semblance of a normal life as the stoma and bag embark upon a schedule all their own, requiring numerous visits to the loo to empty the bulging bag. In another month I will undergo a "reversal" operation. A "j-pouch" has been created from my small intestine. It is currently healing but will eventually function as a makeshift rectum.
While Elder and I were each diagnosed with colorectal cancer, the fates were not equitable in distributing their luck. There are four stages to cancer. Stage one, which I had, is generally curable by removing the malignant tumor. The severity of my operation was meant to eradicate any possibility of cancer's return, a likely scenario since I already had a bowel disease called ulcerative colitis. In Elder's case, she was diagnosed when the cancer had already reached its fourth and final stage. A normally calm front masks a seething indignation over her predicament. Although she'll never know, the severity of her prognosis may have been completely different. Says Elder, "Four different doctors over the course of four months completely misdiagnosed me. They refused to acknowledge my symptoms. They said I was too young for colorectal cancer, that I looked too good and that I didn't fit the profile. They also said losing weight was par for the course in a stressful academic environment. In reality, I was at the last stage of cancer's progression."
In December 2002, an accurate diagnosis of Elder's disease was finally made at St. Justine's Hospital. Dr. Philip Gordon, chief of colo-rectal surgery at the Jewish General Hospital and a professor of surgery and oncology at McGill, then confirmed the findings. Says Gordon, "The vast majority of people don't develop this cancer until after the age of 50. That is the age screening is recommended for the general population. But there are rare cases when someone is afflicted in their 20s or 30s, usually the result of a genetic mutation in an individual's family tree."
At the time of our respective diagnoses, I was 36 and Elder was 20, putting us both in a colorectal cancer time warp. The fun, however, was just beginning. My condition has in some ways forced me to revert back to infancy. My operation left me with a randomly bleeding butt. Although childless, I am now a denizen of the diaper aisle at the local pharmacy, stocking up for my daily donning of fresh Pampers.
For Elder, the leap in time was no less significant. The treatment has left her unable to ovulate, so she's effectively in menopause. Yet even this sign of premature aging is topsy-turvy. Although she feels lucky to be able to live at home with her family, she's at a stage of her life when living with roommates would be more normal. "My world has evolved into a world of dependence at a time when I should be asserting my independence. I am less independent now than when I was 18."
The challenges for Elder are exacerbated in her social life. "There is a real lack of understanding among my peers as to what it is to have 'good' days and 'bad' days. A bad day for one of my peers might involve not being able to get a date with someone in particular. A bad day for me could involve being told by my oncologist that he has to reduce the dosage of my chemotherapy because my body can't handle it anymore. Our frames of reference are completely different." Her frustration extends to seemingly normal, young adult topics of conversation. "I am always being asked what grad school I plan on attending, what career I'm thinking of choosing and if there is anyone in my life whom I am considering marrying. Those questions are really hard to deal with when I don't even know if I'm going be alive next week."
My own trials took on a different tone. Before the operation I was informed that the procedure might render me impotent due to the possible severing of nerves in the pubic region. I banked some sperm in preparation for the worst-case scenario then said a prayer before succumbing to the knife. Thankfully, things turned out all right. Now my biggest fear is that the ostomy bag will leak or that the "Tupperware" seal will unsnap. Both of these highly anxious situations have occurred, fortunately while I was in the privacy of my own home. I am not quite sure how I would respond if a similar scenario were to present itself in public, and I do not really want to find out. In response to the potentially leaking bag, my sleep habits have also transformed. No longer able to engage in any sustained REM, I now feel akin to the dolphin. Like our fellow mammal, only half of my brain actually engages in sleep. Unlike the dolphin, the other half remains vigilant against any ensuing ostomy trauma.
On a more upbeat note, my bout with cancer has actually left me better off in one aspect of my life. For 15 years my diet had severe restrictions placed upon it as a result of living with ulcerative colitis. But with the removal of my colon came the permanent removal of my ulcerative colitis. In a strange twist of fate, I can now indulge in any culinary extravagance my heart desires!
Helping to create a more positive overall school experience is the McGill Office for Students with Disabilities (OSD). Although it took a chance meeting with a TA, one year after her operation, for Elder to be informed of the OSD, she is grateful for the assistance they are now providing. "They inform your teachers of your situation. They allow you to write exams at the centre so you can take necessary breaks. They have note-takers in the event that you miss class due to a hospital appointment. I was even loaned a laptop for the semester because it is difficult to write by hand for five days following chemotherapy due to side effects. I wish more of the student population was aware of them." Other Montreal-based resources include Hope and Cope, and Gilda's Club. Says Elder, "Both organizations have young adult support groups which can be really helpful in terms of emotional healing and forming friendships."
While receiving specialized treatment in the United States, Elder found out about a centre devoted exclusively to assisting young cancer patients. Situated just outside of Missoula, Montana, Camp Make-A-Dream is a medically supervised, cost-free camp; an oasis for cancer survivors up to the age of 25. Explains Elder, "The main purpose of the camp is to bring together young people who share similar life experiences." It also fills a gap created in traditional hospital settings. "My doctors never talked to me about issues pertaining to sexuality, fertility and body image. I was left to fend for myself. Camp Make-a-Dream offered workshops addressing all of those topics. They also organized a whole week of activities including skiing, climbing and tobogganing." The on-site team of doctors familiar with each camper's circumstance reduced to a minimum the usual set of worries associated with travelling. "It was the most carefree time I have experienced since discovering I have cancer."
An acceptance of circumstances beyond our control combined with a strong will to live are traits Elder and I both share. Changes have occurred with our bodies, and so changes have been imposed upon our lives. I have found that embracing my treatment, my new physicality and my altered psychological space have been important steps in minimizing a degree of depression that inevitably sets in. For Elder, it is about treating herself well and moving forward. "Nobody cares as much about you as you do." Her positive approach has been invaluable in helping her to continue beating the survival odds. Says Elder, "People with cancer just want to be able to say 'yes,' they have cancer, without getting strange looks and questions. Cancer is obviously part of their life, but not their whole life."
For more information, please contact the McGill Office for Students with Disabilities at 398-6009, Gilda's Club at 937-3636 or www.gildamtl.org, Hope and Cope at 340-8255 or www.hopecope.jgh.mcgill.ca, and Camp Make-a-Dream, www.campdream.org.
Colorectal cancer preventative measures
Colorectal cancer is the second leading cause of death from cancer for men and women in Canada (lung cancer is first). This year, 17,000 new cases will be diagnosed, while 6,400 Canadians will die from this "silent cancer".
It is absolutely necessary to be screened if there is colorectal cancer in your immediate family.
Colorectal cancer is prevented by removing precancerous colon polyps. It is cured if it is found early and is surgically removed before it spreads to other parts of the body.
Fecal occult blood tests are chemical tests that are performed on samples of stool to detect the presence of "occult" blood (amounts of blood that are so small that they cannot be seen with the naked eye). These tests usually are begun at age 40 and are repeated annually.
Benign polyps can be removed easily during colonoscopy and are not life threatening. Routine colonoscopies should begin at age 50.
Eat a diet high in fruits and vegetables and low in fat and red meat.
Lose excess weight, exercise regularly and stop smoking cigarettes.
Colorectal cancer is both preventable and curable!
On April 8 at 3PM there will be a public workshop with the staff dietician at the Jewish General Hospital on Nutrition, diet and colon cancer prevention. Cancer Prevention Centre, C107, 3755 Cote St. Catherine, contact 340-8222 ex. 4947.
Gems for a cause

Growing up with cancer in her family has motivated fourth-year management student Jaclyn Stein to join the fight against colorectal cancer. Jaclyn's father, lawyer and cancer activist Barry Stein, was diagnosed with stage four colorectal cancer eight years ago. Nine operations later the cancer is now undetectable in his body. On April 1, Jaclyn will host the fourth annual Cure-osity Charity Benefit at the Medley. One-hundred percent of the proceeds from the event will go towards colorectal cancer research; half to the Colorectal Cancer Association of Canada (CCAC) and the other half to the Lady Davis Research Institute at the Jewish General Hospital. The idea for the benefit grew out of Jaclyn's desire to get people in her age group involved with raising colorectal cancer awareness. Says Jaclyn, "A team of 20 people have been helping me organize this year's event for which we hope to raise close to $30,000." With her lifelong passion for jewelry making, Jaclyn has also created the Lifesaver Collection of bracelets. "It is meant to raise awareness and money for the fight against various cancers." Made from semi-precious stones and sterling silver, 20 percent of each sale is donated to the CCAC. The collection currently includes bracelets supporting colorectal, breast and ovarian cancers, a Gilda's Club and an AIDS bracelet. Says Jaclyn, "My dad makes the most of every day he has and he has taught his family to do the same."
Tickets for Cure-osity are $10 in advance, $15 at the door.
Visit www.cure-osity2004.com or call 340-8251.
For info about CCAC visit www.ccac-accc.ca.
Information about the Lifesaver Collection can be found at www.anzie.com.