Viva Richleriano!
Writer, babe and fan of irreverence, Maria Francesca LoDico covers the Richler conference through a smoked meat haze.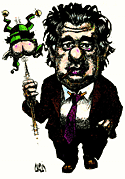 Aislin
In a celebrity-studded conference on Mordecai Richler at the posh Faculty Club, the Montreal novelist, essayist and polemicist was described as "rumpled," "cantankerous," "curmudgeonly," and a "lush." He was also lauded for his take-no-prisoners humour, his mordant satire and his endless capacity to offend people and to be a provocateur. All this in the first few hours! And it just got better in what one participant affectionately referred to as "posthumous academic revenge."
No fan of the academy, Mordecai would probably not have been entirely comfortable at the Richler Challenge which gathered 150 participants for a two-day conference on March 18-19 organized by the McGill Institute for the Study of Canada (MISC). In five panel discussions, academics, writers, journalists and artists discussed Richler's place in the Canadian canon and tried to assess the impact of his work. The symposium was fueled by the argument that Richler is under-represented in Canadian literary studies and discussions revolved around topics like "Why Richler Matters" and "Is Richler Canadian Content?"
To stress that this was not a love-in and that were no sacred cows, panels ended with a provocateur who shook things up by challenging arguments and ideas advanced by the speakers. They also brought in controversial figures like Gerard LeBlanc, a journalist now retired from La Presse. Richler accused LeBlanc of anti-semitism in an infamous 1991 New Yorker article in which he argued that Quebec nationalism had not freed itself from a racist past.
The Reporter, taking its cues from Richler himself, has compiled a take-no-prisoners account of the conference. Call it the Richleriano view - from the bar, scotch in hand. Barney's Version, Mordecai Richler's last novel, was such a rip-roaring success in Italy that it sold over 300,000 copies. Barneymania caused such a sensation that it spawned its own word —Richleriano - slang for politically incorrect. Here's to outrichlering Richler. Bottom's up!
The babes
Conference organizer, English professor and Canadian studies program director Nathalie Cooke, MISC director and Political Scientist Antonia Maioni, journalist and conference host Hana Gartner, Canadian Consul General in New York Pamela Wallin, Principal Heather Munroe-Blum and Richler's wife, Florence - babes, all of them, bodacious babes.
Let me assure you this is not a sexist comment. Wallin introduced herself in the following fashion: "The title of this session is 'A Canadian Jew Abroad.' I am a broad living abroad in a city filled with Canadian Jews and American Jews. Hence my presence here today." And by the way, Wallin looked fabulous with red streaks in her hair.
Aislin, the nom de plume for Gazette editorial page cartoonist Terry Mosher, was on official conference babe watch. During his presentation on "Drawing Mordecai Richler" and the art of satire, Mosher showed us one of his cartoons featuring Sheilagh Rogers, the CBC radio host of Sounds Like Canada, all dolled up for the Giller Awards. He said he never misses the Canadian literary event of the year because of "Sheilagh's acreage. Let me assure you this is not a sexist cartoon. Ask anybody who goes to the Gillers. Sheilagh displays a great deal of acreage, amply and annually."
Sorry - no cigar, no hooch
Wine was served at the cocktail parties and smoked meat from Schwartz's was on the menu for lunch. In a nice touch, the carver came in from the deli to work his sharp magic, significantly slowing down the line-up with rapt bystanders.
But alas, no cigars, no scotch. Almost every other speaker began their presentation with something like this: "When I first met Mordecai, he was at the bar with a scotch, another drink and a coffee in front of him. So I ordered a gin tonic and tea - and Mordecai ordered a whisky." One of the cocktail parties was even held in the snooker and billiards room of the Faculty Club where cigar smoking is permitted - but the conference did not offer us any cigars. Nor any scotch.
The babes - Part II
The charge of sexism in Richler's work came up during several presentations. In this debate there is, arguably, a generation gap. Students and many feminists are critical of Richler's portrayal of women. Older academics accuse them of being politically correct and argue that gender studies is about masculinity as well as femininity.
During the panel discussions, everyone behaved. Indeed, it was pointed out that Florence Richler, sitting in the front row, was such a fine model of womanhood, how could we possibly question Richler's women? But in queue for the smoke meat, all bets were off:
Female academic: "...the women are so extraordinarily good and successful in his work - and in his life! We need to shift the focus. A study of masculinity in Richler's writing is long overdue."
Female grad student: "But you're co-opting gender studies for masculinity's sake. It just reinforces the old boy's club that Richler's writing embodied. And you're ignoring the sexism charge."
Female academic: "And you're forgetting what a great man, a great, great man he was!"
At this point the carver, mid-skewering, chimes in. "Mustard, yes?"
Wop-ing it up
Canadian-born Gil Bellows, the actor best known for starring in Ally McBeal, was invited to perform scenes from Four Nights With Mordecai, a new play by David Macfarlane. And oy vey was he fabulous!
Things got a bit surreal, however, when...well, the Italian translator of Barney's Version, Matteo Codignola, was supposed to speak at the conference about the madness behind Italy's Barneymania. Unfortunately, he couldn't make it. But "we wanted an adorable, cute Italian," said Wallin, "to deliver this [the translator's paper]. We combed the streets and found someone who is cute and adorable and who will at least speak as if he were Italian. Please welcome back Gil Bellows." And the actor proceeded to read the translator's paper "in character" as an Italian: that's right, folks, Bellows read the paper with a wop accent. A conference dominated by a decidedly Yiddish meshugas (craziness) suddenly went the way of mamma mia!
The charming Signore Codignola regaled the audience with anecdotes about why Barney Panofsky was seen as a hero, "a standard-bearer of a typically Italian ideology - the ideology of political incorrectness." Indeed, the ascension of Silvio Berlusconi as prime minister of Italy was the result of "one Barney voted by millions of Barneys-to-be" into office.
Waiting for Mrs. Panofsky
According to the charming Signore Codignola (as played by Bellows "in character"), the Italian daily Il Foglio spurred Barneymania by publishing an initial review of the book, followed by a second, and then a third review, and then one per day. The letters pages began to fill with readers trying to "out-Barney" each other by being the most politically incorrect, the "arch-Barney." Soon, one of the editors called Codignola asking for "more information" about the second Mrs. Barney Panofsky in Barney's Version.
"What do you mean by more?" Codignola asked the editor.
"Well, maybe you know something about her?"
"— what are you talking about?" Pause. "She was a character in a book!"
"Yes," said the editor, "but maybe you know something about her, something more..."
Getting Punk'd by Mordecai
"How many people were a victim of a trick letter or a fax from Richler?" asked John Fraser, Master of Massey College, University of Toronto, on hand as provocateur for one of the panels. Quite a few hands shot up and Fraser told a story about one of Richler's greatest triumphs as a trickster.
On the day the news came out that Fraser had been elected Master of Massey College, a confidential fax arrived "for the new Master's eyes only." It said: "Congrats on the new gig. The latest shipment of silver has arrived safely in London."
The secretary, said Fraser, handed the fax to him and exclaimed in all seriousness, "That silver belongs to the college!"
The Googling of Mordecai Richler
To bolster the claim that Richler is underrepresented in the Canadian canon, panelists Russell Morton Brown and Donna Bennett (Department of English, University of Toronto) discussed a most "curious truth": only 81 articles on Richler have appeared in the Modern Languages Association International Bibliography, compared to 856 for Margaret Atwood. This astonishing news was met with solemn disbelief.
Brown and Bennett then talked about finding similar results when they "Googled Richler." This was met with a slightly different reaction, typified by the woman behind me who exclaimed, "Googling Richler? Sounds positively obscene!"