Off campus
Dancing
"Life is about not knowing, having to change, taking the moment and making the best of it, without knowing what's going to happen next."

— Gilda Radner.
If anyone would know, it would be Gilda, the famed comedian who died of ovarian cancer in 1989. And in that spirit, one should seize the day - and learn to dance. Le Conservatoire de danse de Montréal come is holding its fundraiser "Dance with your heart." All profits are donated to Gilda's Club, a resource centre for people living with cancer.
A day of classes shall be offered by the teachers of the CDM in its studios: classical ballet, jazz, modern, tap, hip hop and children's classes starting at age three.
Tickets for the dance classes are $15 per class. Classes run between 10 am and 6:15 pm. 215 Jean Talon West, Third floor. Call to reserve at (514) 272-7727.
Browsing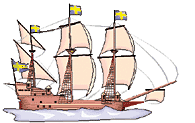 Four hundred years ago, this month Samuel de Champlain sailed from Havre de Grace on the flagship of the newly appointed Lieutenant-General of La Cadie, Pierre du Gua de Monts.
Also aboard were roughly 100 artisans and criminals recruited from the prisons. These men would form the backbone of the first permanent French settlement in North America. As anyone familiar with Canadian history knows, the first attempt ended badly: St Croix Island in the Bay of Fundy was poorly suited for a township. But Champlain and his men persevered, settling Acadia and eventually Quebec.
To mark the 400th anniversary of the French presence in North America in 2004, France and Canada are putting relevant documents online, reproduced in their entirety using the latest digitization technologies, and making them accessible to the public. Check it out at www.archivescanadafrance.org.
Juggling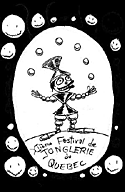 April is just around the corner, which means it's the time of year that we've been waiting for - the Festival de Jonglerie du Québec. So grab your balls and head out to the largest juggling event in the province. There will be a series of workshops on topics like beginner's juggling, club passing (beginner and advanced), tricks for four balls and ball bouncing. There will also be shows and competitive events like unicycle basketball, club combat and blind juggling (a questionable idea, as MacAuslan Brewery is a sponsor).
Saturday, April 3, 8:30 pm, at the Auditorium of Polyvalente Lucien Pagé, 8200 St. Laurent. Call Yves Roberge, 374-3550 or check out www.jaq.qc.ca for more information.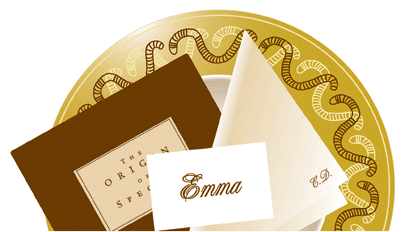 Tzigane
Dinner with the Darwins
McGill graduate and University of Ottawa biology professor Rees Kassen writes of Emma Darwin and the evolution of companionship
In the summer of 1858, Charles Darwin's and Alfred Russell Wallace's joint paper on evolution by natural selection was read at a meeting of the Linnean Society, and soon after published in the Society's own journal. It was a rather subdued beginning to one of the most important, revolutionary ideas of the 19th century. Neither author was present when the paper was read and, by all accounts, it did not inspire much discussion. Indeed, so lifeless were the proceedings that the president of the Society, Thomas Bell, who had presided as chair of the discussion during the meeting, remarked in his president's address that the year just passed had been less than inspirational, containing no revolutionary discoveries.
Such is the way it often goes with profoundly new ideas. Years in gestation, and then born into the world with a decidedly passive and uninterested "uh huh". It takes more than just a public pronouncement for even the most important ideas to make a splash. According to his biographer Janet Browne, Charles understood the importance of advocacy in disseminating knowledge. It turns out his wife, Emma, did as well.
Especially Emma, I was to learn. At a guest-night dinner last year at St. Hugh's College, Oxford, where I was spending my time as postdoctoral research fellow in evolutionary biology, I had the good fortune to have been seated next to Lady Edna Healey, a graduate of the college and the wife of the former Chancellor of the Exchequer in the Labour government before Thatcher, Lord Denis Healey. I was told - just before sitting down - that Lady Healey had recently published the very first biography of Emma. Had I read it? No, of course not. But I wasn't about to decline the opportunity; this was probably as close to dining with the Darwins as I was likely ever to get.
Emma, I learned from my conversation over dinner and, later, through reading Lady Healey's book (Emma Darwin, Headline Book Publishing, 2001), was Charles's nurse, editor, translator and research assistant, famously playing the piano with a jar of earthworms on the lid so Charles could study their responses to music. As The Origin was about to be published, Emma was on her eighth pregnancy with her youngest children sick and needing constant attention, yet she still managed to find time to assist Charles with editing the proofs. Publication and publicity were then, as now, very much a team effort.
Charles clearly owed much to Emma. If T. H. Huxley was Charles's bulldog, defending his views on evolution in public when Charles was too sick or, possibly, too scared to do it himself, Emma was his watchdog at home. As his infamy grew after the publication of The Origin, she helped keep admirers and detractors at bay, excusing Charles to his dinner guests when he disappeared upstairs as the conversation wore on, or going in his place to Cambridge to accept an honorary degree. Emma could be blunt and, one presumes, accurate. She is reported to have written that Charles Lyell, the most important geologist of his time and a close friend and mentor to her husband, was apparently "enough to flatten a party." Perhaps it was better that I have dinner with the Darwins through Lady Healey, after all.
Emma was incredibly accomplished in her own right. She was well educated, opinionated on European and English political affairs, campaigned against slavery and cruelty to animals and for parliamentary reform, spoke French, German and Italian, was a gifted pianist who had studied with Chopin and Moscheles, wrote a reading book for children, and was mother to a brood of 10, though only seven survived to adulthood. And on top of all this she was Charles's most ardent supporter, even when his views on religion and faith - he became a committed agnostic - were in conflict with her own.
The more I learned of the life Emma and Charles had together, the more I found myself drawing parallels with my own. My own wife, like Emma, is an accomplished pianist (I venture that her Chopin would wipe the floor with Emma's any day), and has, from time to time, been known to furnish the odd excuse or white lie on my behalf. She also reads and edits everything I have written since we first met as graduate students at McGill, just as Emma did for Charles. Emma apparently was never much for the fineries of a tidy household, and sometimes my wife isn't either. But, before I get carried away by a tide of presumption, let me just say that we do not intend to have 10 children and I have yet to ask my wife to play the piano in order to study the responses of earthworms or any other soil-dwelling creature.
Without Emma it is doubtful that Charles would have been as prolific or as public a figure as he was. We all understand the importance of someone like Emma in our own lives, particularly those of us who have chosen an academic path.
For anyone who has ever struggled and strained through a graduate dissertation, who has done a private rhumba around the room upon finally figuring out how to get Word to stop removing the "u" in colour, or who has woken up in a panic at three o'clock in the morning convinced that they have an exam to write in a course for which they were registered but never attended, understands the need for reassurance, support and indulgence - not to mention capable and ruthless editing - from family, friends and partners, just as Charles needed it from Emma. We all have our own "Origins," even if they are destined for no loftier a position than the upper reaches of our bookshelf, and we all need an Emma to help see them through.