In focus
Peter Smith: A winning coach
Peter Smith refuses to take all the credit for the Martlets's recent successes. When asked what makes him such a good coach, he mentions McGill's financial interest in the team, recruitment efforts and the rising profile of women's hockey. But ultimately, it's about the players: "In a nutshell," he says, "what makes a successful coach is a successful team."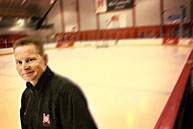 Claudio Calligaris
Smith won his 100th career game about a month ago, bringing his McGill coaching record to 100-57-19. Although it prompted a flurry of excitement, the individual victories are more important to him than the numbers, and the difficult wins and losses stand out the most. For example, he recalls a painful loss to the University of Alberta in the final match at the Canadian Interuniversity Sport (CIS) Nationals in 2000. Even though the Martlets won silver, it felt more like they had lost the gold. He also remembers an exhausting sixth overtime win in the league finals against Université du Québec à Trois-Rivière in 1999–2000, allowing the Martlets to take the Quebec title.
Smith has been involved with McGill for many years, starting out as a BEd student and varsity swimmer. He went on to earn a master's degree in sports psychology, coached tennis and squash and coached women's hockey in Lachine. He is currently facilities manager for the Department of Athletics and became head coach of the Martlets in 1999.
According to Smith, women's hockey is on the rise while men's hockey is declining, with increasing opportunities for young girls and university students. He enjoys coaching women: "When it comes down to it, I'm a women's coach," he says. "I've found that women are coachable and they want to learn." He finds that with the unique problems student-athletes face, such as time management, he is constantly drawing on his education background. "Coaching is teaching," he states.
And the greatest challenge of coaching a university team is figuring out what each year's team needs in order to improve. With veterans graduating and rookies coming in every year, no two teams need the same kind of program, and every team has its own strengths and weaknesses. This past season, the Martlets were a young team with eight rookies. But they were a balanced team with some depth, as well as "speed and intensity and a lot of potential."
The Martlets played against the University of Alberta in the semifinal game of CIS Nationals, held on Saturday, March 13, at the McConnell Arena. "It was a great hockey game," says Smith. After a shaky first period, they played two of their best periods in the second and third, although it wasn't enough to get the "equalizing goal." "This is one of the favourite teams that I've had," says Smith. "They had cohesiveness, leadership and every member contributed to the team." They earned the bronze medal with a 1-0 win over the University of Saskatchewan the next day.
As well as being McGill's winningest women's hockey coach, Smith was awarded the CIS Coach of the Year award for the 2002–2003 season. "It was a good year," he says. But he is humble about his team's successes and doesn't let the present or past cloud his hopes for the future of his team, which has maintained its power for the past few seasons (winning silver in 2000 and bronze in 2001, 2003 and 2004). And he doesn't let anything get in the way of his enjoyment of coaching.
"Coaching is what I was cut out to do."
Hana Askren

Canadians are uncomfortable with the s-word. Satire is a genre which is not recognized in Canada.
Tara Hecksher practices her royal wave during the St. Patrick's Day parade on March 14. The McGill international development studies and economics student was the first black parade queen in the event's 180 year history in Montreal. Hecksher, whose father is Irish and mother is Nigerian, is involved in the Hip Hop Society at McGill as well as being the VP of Education of the McGill African Students Society and is on the McGill lacrosse team. McGill student Theresa Casey and grad Jessica Earley were two of four princesses in Hecksher's court.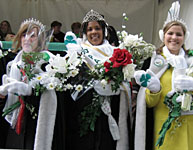 Linda Dawn Hammond

A prime minister appoints people whose views are as close to theirs as they can predict.
Principles of design
Picture entering an auto-race and deciding you're not going to use gas because of its environmental effects. Then imagine placing second anyway.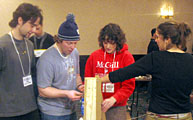 Liette Conolly-Bartin
In effect, that's what a team of bioresources engineering students did at the recent Canadian Engineering Competition in Hamilton last month.
Amélie Turcotte, Élizabeth Paulet, Alexis Cadoret and David Giard had entered the junior team design event. They and the seven other teams from across Canada were given four hours to design a machine that could lift a plastic golf ball over a low wall.
Teams were provided with basic materials at their workstations, which included the post that was to serve as the main element of the structure. The post came attached to a bottle, as water was supposed to provide the force by which the machine would be powered.
No way, said the McGill team.
"Water is a big issue all over the world [and not always available.] We are in bioresources engineering, so that was really our driving idea," said Turcotte.
The teams could "purchase" items from an on-site store, but the cost of using too many materials or complex tools would affect your score. The McGill team, in keeping with their no-waste philosophy, used as little as possible beyond the resources they were given.
"We wanted to stick to our convictions," said Paulet.
Over the four hours, the team managed to create a system of ropes and counterweights that would use a pulley made from a hamster cage (their only materials purchase). The system worked well in testing, but failed when it came time to present to the judges.
No matter. The judges, mostly Canadian Forces engineers, were impressed enough to award the team second place - ahead of teams that actually succeeded in getting the ball over the wall.
"In the presentation we tried to get in some facts about world water issues. We tried to make it real-world, even if it's just moving a ball," said Paulet.
The difference in approach went beyond the application of ethics. The team was the only bioresources engineering team in a field dominated by mechanical and electrical engineering students, the only one competing that had any women - and the one that had the most fun.
"When we were working it was all in one big room, and the judges were walking around watching everyone. I don't think they took us very seriously because five minutes before the competition, when it was not working, we were still all laughing," said Turcotte.