On campus
Analyzing the Fine Print
Alternative tabloids and mainstream dailies, from New York's The Village Voice to Montreal's Le Devoir, regularly shape and reshape the morals of their cities. That's why academics from around the world are assembling in Montreal to debate the many ways urban life is affected by print media.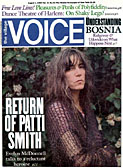 "Print Culture and the City: An Interdisciplinary Conference" is being hosted by McGill's Department of Art History and Communications Studies on March 26 and 27 at Thompson House.
Cities being examined include Montreal, New York, Los Angeles, Amsterdam, London, Paris, Prague and San Salvador. Over 50 presentations will dig into a range of topics: from the emergence of punk zines, to the influence of newspapers on atheism, to the effects of the alternative press on queer pride events.
An exhibition of tabloid newspapers, magazines and posters, entitled "Print Culture and City Sensation," will also open at McGill's Redpath Library on March 26.
"Print Culture and the City" was organized by McGill's Kevin-John Bozelka, Danielle Schwartz, Will Straw and Jessica Wurster. Admission, which includes meals, is $60 at the door. For a complete list of conference topics or to register, please consult www.arts.mcgill.ca/ahcs/cultureofcities/printculturecity.html, or call 398-7667.
Bird: a four letter word
Who would have thought that the pastoral pleasures of bird watching could be a PG-13 activity? David Bird, director, Avian Science and Conservation Centre, knows the carnal desires that pulse under the crimson breast of the robin, the passions of the plover, the hedonism of the hawk.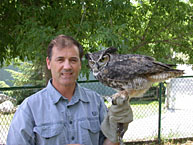 Bird, author of The Bird Almanac, will expose the sexual proclivities of our feathered friends, which lend new meaning to the phrase "dirty bird." Mile High Club! Incest! Homosexuality! Divorce!
"Infidelity has become rampant in the bird world. Most species are cheating on each other big time. In nests of tree swallows, about half the young in the nest have been sired by somebody other than the male looking after them," said Bird, adding that in order to prevent this, male birds will often forgo looking for food in order to keep an eye on their mate.
David Bird, "A chat about the 'birds and the bees' as it relates to... birds!" March 30, 6:30 pm, Martlet House, 1430 Peel Street. $8/person.
Shaking up the bard
It's the theatre equivalent of quilting: take a part of this old rag, a swath of this other cloth, and voila! In this case, the English Department's Shakespeare Theatre Lab patched together disparate seven characters that appeared in different plays of the Bard.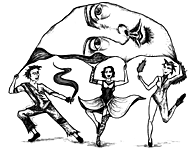 To a Loving Humour of Madness kidnaps characters from their accustomed milieus in plays like A Midsummer Night's Dream, As You Like It, Hamlet, Macbeth, Much Ado About Nothing, The Taming of the Shrew, and The Tempest. It throws them onto a strange island, where they are forced to interact - but not without the interference of three fools, who manipulate the action on stage.
The play has been developed by the members of the Theatre Lab class who explore Shakespeare's plays through the lens of meta-theatre, Brechtian theory, and gender theory.
"To a Loving Humour of Madness" 8:00 pm, Tuesday, March 30 to Saturday, April 3, 2004, Moyse Hall, $10 for Adults, $5 for Students, Seniors, and Groups. For reservations call the ticket hotline 398-6070.
Put on your rethinking cap
It's been three years since McGill approved its environmental policy. What's happened since then? And what happens next?
That's the subject of the Rethink@McGill Forum, which will feature presentations from Principal Heather Munroe-Blum, VP (Administration and Finance) Morty Yalovsky and Montreal city councillor Dida Berku. There will be opportunities for the McGill community to speak their minds on environmental policy at the university.
The conference will also feature presentations on green buildings, with teams from U de M and UQAM on environmentally sound building projects on their campus. Environmental Officer Kathleen Ng said that McGill is the first university to become a member of the Canada Green Building Council.
"[Green building] is basically using sustainable building practices, making a building use less resources over its operating lifespan," said Ng, pointing to the Mountain Equipment Co-op store, which uses rooftop cisterns to supply water for their toilets, as an example.
Rethink@McGill: Forum 2004, April 1, 12:15 pm to 4:30 pm, Leacock Building Rm 232.