New dean an "Old World" hand
DANIEL McCABE

The Faculty of Law's revamped curriculum aims to make its students world players. If they're looking for a role model, they need look no further than to Peter Leuprecht, their new dean and the former deputy secretary general of the Council of Europe.
A gift for students
BRONWYN CHESTER

The new student services building, slated to open in the fall, now has a name - the William and Mary Brown Student Services Building. The Browns have provided $3 million towards the costs of the complex.
Stressing citizenship over Springer
BRONWYN CHESTER

Call him old-fashioned, but education professor Kevin McDonough thinks we ought to be thinking more about how to instil values like civility and respect for differences in our children. He acknowledges that it's not an easy task and worries that schools are failing to meet the challenge.
To the top in silence
DANIEL McCABE

When Andrew Cuddihy became deaf at the age of four, he initially thought he had lost his voice. What he never lost was his determination to succeed. A published researcher and a dean's honour list student, Cuddihy helped developed software system that hearing-impaired students are using throughout North America.
Queen of entrepreneurs
MARIA FRANCESCA LODICO

Hollywood goddess Joan Crawford's honeymoon was in jeopardy and the best brains at Pepsi and NBC were powerless to help her. In stepped Evelyn Echols. With a lot of chutzpah and a little skulduggery, she got the job done.
The class of 2012? Young scribes visit McGill
BRONWYN CHESTER

Every spring, over 1,000 young literary-minded schoolchildren arrive for McGill's annual Young Author's Conference. They pick up writing tips from some of the country's best children's writers and marvel at the University's strange characteristics - all those guys with moustaches and the "humongous" bathrooms.
Guiding the governors
ERIC SMITH

Time will tell if he's the next president of the CBC. For the moment, Robert Rabinovich will focus on his newest challenge - chairing McGill's Board of Governors.
Wiser web use
OWEN EGAN

Patients are stampeding to the Internet for information about their aches and illnesses. That's often a good thing, says family medicine professor Barry Slapcoff. But not always.
Trial by fire
BRONWYN CHESTER

You've got the theory down pat and you've done well in your courses, but are you ready to face ... them? When the Faculty of Education's teacher trainees finally head off to actually do some teaching, they find their new pupils are eager to test their authority.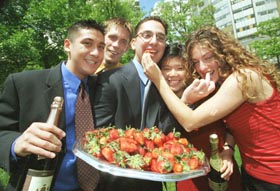 They're in the pink! There were strawberries and champagne for Lambert Kwok, Kevin Penney, Peter Glavas, Joyce Chen, Tania Zampieri at a recent function organized by the School of Physical and Occupational Therapy for its graduating students.

PHOTO: OWEN EGAN