Professor Cotler goes to Ottawa
DANIEL McCABE

Can an idealistic human rights activist find a place for himself in the rough and tumble world of federal politics? Law professor Irwin Cotler is about to find out.
New language lab
MARCUS GILLIAM

The new multimedia language facility in the Faculty of Arts represents a major step forward in how McGill students will learn new languages.
Swimming in it: A centre for the study of a wet world
BRONWYN CHESTER

With experts in parasitology, law, chemical engineering and agricultural and biosystems engineering among its members, Chandra Madramootoo, the director of the new Brace Centre for Water Resources Management, is confident his unit will carve out an international reputation.
Confused? Abused? Call Carol
SYLVAIN-JACQUES DESJARDINS

Social work professor Carol Cumming Speirs stands at the ready to help out students with a wide range of problems in her capacity as McGill ombudsperson.
And on the seventh year...
MARK SHAINBLUM

Outside academe, sabbaticals are sometimes viewed as an expensive frill. In fact, they play a vital role in recharging professors' batteries.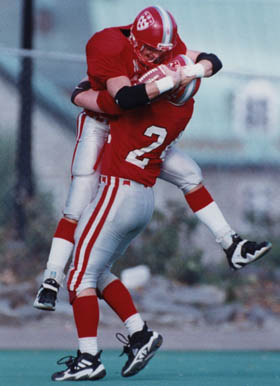 Wearing whacks Windsor
McGill Redmen wide receiver Ben Wearing was hoisted into the air by a teammate in celebration of Wearing's terrific performance against the Windsor Lancers on Saturday. Wearing wracked up 232 all purpose yards (receiving, rushing, punt returns) against the Lancers, earning male athlete of the week honours from McGill in the process. The Redmen won the game 45 - 15 in front of an enthusiastic crowd of alumni attending Homecoming Weekend.

PHOTO: ANDREW DOBROWOLSKYJ