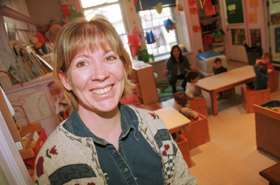 Christin McCaffrey: Keen about kids
When Christine McCaffrey was a little girl, there were two things she wanted to be when she grew up: a teacher or a mother. "It alternated every year," laughs the director of the McGill Child Care Centre.
"I knew at an early age that being with children was important for me."
Being with children remains important to McCaffrey even though she may only get to see the centre's charges once a day. "A visit with the kids is like a break for me; it's where I can refocus on what's important.
"Childcare is made up of relationships and for me to have a sense of what children and their families need, I need to see them," explains McCaffrey. "When you're working in partnership with families, the goal is to create a program that balances the needs of the families and bridges understanding."
The centre's children, all 106 of whom belong to employees or students of the University, represent at least 40 cultures, a diversity that is celebrated at every opportunity. "We've just celebrated Sukkot," she says. "In one class last year, the children could sing Happy Birthday in five or six languages."
A tougher component to McCaffrey's job involves finding a way to maintain the centre's high standards in the wake of recent government legislation.
Part of Quebec's five-dollar-a- day daycare policy involves the mandatory provision of lunch.
The MCCC doesn't provide a lunch and doesn't have an industrial kitchen required to do so. Installing such a kitchen in the down-at-the-heels series of four greystones that comprise this rambling centre would be expensive, as would be providing the meals.
McCaffrey fears that if the centre has to comply with the lunch program it will have to cut elsewhere: either into the "iron triangle of good daycare," as she calls it: low staff-to-children ratios, high staff qualifications and small group sizes, or into the "extras": the skating, French and music programs.
The MCCC is already penalized for its commitment to a better than average staff-to-children ratio -- it receives funding on the basis of the number of children it serves, not on the basis of the number of staff looking after the kids.
To know what the parents, staff and board members feel on the lunch question, McCaffrey recently sent a 12-page information document and questionnaire to everyone.
"She's good at responding quickly to concerns like that," says English professor Berkeley Kaite, a board member and mother of a child at the centre.
Kaite has been impressed by the director's "commitment to families" and her respect for the teachers -- all of whom have degrees or diplomas in Early Childhood Education (which is not the case in all Quebec daycare centres).
"She tries to make the classroom a place where the teacher can develop her own program, choose her own books. The teachers know that they're maîtres chez nous," says Kaite.
For her part, the director likes her job, though she'd like to spend more time with the children, to "learn more from them" and "go back to a time in your life when things were poetic."
"Recently in one of the two-year-old classes, a little boy said: 'You're Chris. Miss Chris. You're Chris Miss.' Then, realizing the word he'd made, he said it four times!"
McCaffrey returned to her native Montreal, with her husband and two daughters, ages six and nine, in order to be close to her family, and she's still getting used to the relatively loose daycare rules in Quebec.
While deciphering the ins and outs of the government's new policy has been her greatest challenge on the job, McCaffrey is relieved that she doesn't need to consult Alberta's four-inch-thick book of daycare rules any more. Candles and balloons, for instance, are not permitted in the land of Ralph Klein. "It's 'safety hazard, safety hazard,' all over the place.
"Here, there's more the attitude that candles are a part of life so you might as well learn how to behave around them. The responsibility is put on the community to govern the quality of childcare and that's good."
Bronwyn Chester