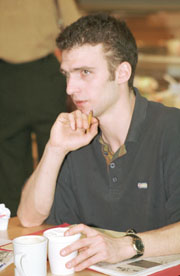 Louis-Philippe Messier: A force for French
Perhaps Louis-Philippe Messier was born a generation and a half too late.
Listening to the francophone commissioner of the Students' Society of McGill University speak about the conference he is planning on McGill français -- an extraordinary movement in 1969 which united francophone nationalists and leftist anglophone student radicals in the cause to turn McGill into a French-language university -- you can't help but sense his excitement.
The idea of a McGill français may seem far-fetched today, but at that time there was only one French-language university in Montreal, the Université de Montréal. And McGill, with francophones making up only three per cent of its student population, was considered a bastion of anglo domination in a majority francophone province. It was also the era of the Viet Nam War, student radicalism in North America and Europe and the nuclear arms race.
"It was such a strange and mythical event," says the 21-year-old philosophy major, speaking in English. "It was like when the Queen came and there was that huge demonstration. And there were so many ironies, like Stan Gray being one of the leaders and him being a guy from Toronto whose French was poor."
Gray, who was expelled from McGill for his involvement in McGill français, went on to become a steelworker in Hamilton, Ontario, where he worked on health issues in the union and is now a consultant to unions on questions regarding workers' compensation.
He is also one of the invited guests to the conference on McGill français which Messier is organizing with the Programme d'études sur le Québec. Others who will mark the event's 30th anniversary may include law professor Julius Grey, a student activist at the time, Claude Ryan, then- director of Le Devoir, and Claude Charron, then a student leader who went on to become a Parti Québécois cabinet minister.
The conference is just one of the events Messier is organizing as part of his mandate to heighten the presence of the University's francophones, who comprise 20 per cent of the student population. Created five years ago by departing principal David Johnston and incoming principal Bernard Shapiro, the position of Commissaire francophone has yet to be well defined, according to Messier. His goal is to establish a few regular francophone institutions that will remain after he has left in a year and a half's time.
One idea that's already been accepted is the translation of one Daily français article per week into English and its publication in The McGill Tribune. Another is establishing a boîte à chansons on campus so all students will have easy access to music in French. Messier's feeling is that many McGill students, especially those from out of province, get little introduction to the French-language culture of Montreal.
In fact, he'd like all first-year students to have the possibility of taking a credit course in French for free with the provincial government picking up the tab. "It would be a way of avoiding the brain-drain and there would be more French spoken in the city," reasons Messier. "It's my utopian idea to work on next year."
But what's a sovereignist doing at McGill? Well, this sovereignist is also an anglophile. At age 16, with summer earnings from working on his uncle's chicken farm and a little help from his parents, he set off to Bradford in Britain to study in English and laughs about the Yorkshire accent he once had. "Londoners took me for a Yorkshire lad!"
While Messier has tried his hand at journalism -- he was editor for two years at Le Consensus, the student paper at CEGEP SteŠThérèse, and has contributed on occasion to the Daily français, he's more interested in politics, organizing events and novel-writing. Already the author of one unpublished novel, Messier, who works on his fiction from six to eight each morning, counts French novelists Georges Bernanos and André Malraux among his influences.
Others who have inspired him in life are René Lévesque, La Presse columnist Pierre Foglia, singer-songwriter Richard Desjardins and McGill philosophy professor Mario Bunge. Of the latter, Messier says: "He mixes science and philosophy so well, so clearly. He's a hard worker too, so prolific."
Of Messier, Stéphan Gervais, from the Programme d'études sur le Québec and a fellow organizer of the McGill français conference, thinks the Commissaire francophone is dynamic, an activist. "He wants to change things at McGill. He wants McGill to remember it's an English institution in Quebec. That's a really great quality."
Bronwyn Chester