Next VP (Academic) named
DANIEL McCABE

Université de Montréal physicist Luc Vinet has a reputation as an outstanding academic and a talented consensus builder. The director of the widely-respected Centre de recherches mathematiques, Vinet will soon be bringing those talents to McGill as the new vice-principal (academic).
New job for Pound
DANIEL McCABE

Fresh from his widely-covered investigation into shady dealings involving some of his International Olympic Committee colleagues, Richard Pound is about to take on another major challenge. On July 1, Pound becomes McGill's new chancellor.
Tosca by way of Texas
BRONWYN CHESTER

Students think the world of them, but music professors Dixie Ross-Neill and Bill Neill can be tough taskmasters -- Dixie sports an "I am not your mother" button. Their sometimes stern approach is neccesary -- the world of opera can be cutthroat and the Neills want their students to be able to compete on an international level.
Paving the way for entrepreneurial engineers
BRONWYN CHESTER

In an increasingly competitive world, being a good engineer sometimes isn't enough. A new minor in the Faculty of Engineering hopes to equip students with the management skills they'll need to really make a name for themselves once they graduate.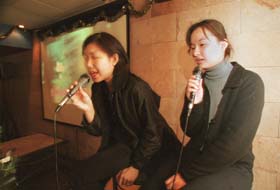 Singing those January blues: Nothing brings them out like karaoke. At least that was the thinking behind a recent reunion night that brought together the members of McGill's Hong Kong Dragon Students. The event was intended to get members re-acquainted with one another now that a new semester is underway, says HKDA president Herman Woo. Management student Bonny Lee and architecture student Jamie Yick (photo above) were among those who handled the mikes. The HKDA is a 150-member club that organizes sports activities, community work and social events for students hailing from Hong Kong, China and Taiwan.

PHOTO: OWEN EGAN