The road ahead for ARR
DANIEL McCABE

The newly re-christened Admissions, Recruitment and Registrar's Office is dealing with some major changes. After a period of separation, McGill's admissions and student recruitment activities are being reunited. The ARR has a new boss too, Robin Geller. She says that excellent service to students and educational equity are among her top concerns.
Closer links urged
BRONWYN CHESTER

A new report calls on Quebec's universities to work together in ensuring the quality of the province's programs in geology, earth sciences and atmospheric sciences.
The globalization gremlins that weren't
DANIEL McCABE

The global economy isn't quite the grim reaper that Canadian nationalists paint it to be, asserts economics professor William Watson. In his new book, Globalization and the Meaning of Canadian Life, Watson insists that our tax policies and social programs aren't really imperilled at all. That isn't to say that Watson advocates the status quo -- far from it.
The iron connection
BRONWYN CHESTER

Iron plays a surprisingly important part in the health functioning of our oceans. Biology professor Neil Price has discovered a tiny plant with a unique ability to process iron -- an ability that might play a vital role in the battle against the greenhouse effect.
Can things change in the Middle East?
TOD HOFFMAN

Is Islam resistant to democracy? A pair of McGill political scientists don't think so. They mull over the prospects for political liberalization in the Middle East in a new book.
"The press that's a success
BRONWYN CHESTER

It's tough sledding for university presses these days. Grants have been cut and the books they produce don't usually appeal to a large audience. So how has the McGill-Queen's University Press managed to turn a profit for the last four years?
Putting technology in its place
BRONWYN CHESTER

Can't program your VCR? Jeremy Cooperstock feels your pain. This electrical and computer engineering professor is determined to make you the master of your machine. And he might just revolutionize distance education while he's at it.
Surviving the thesis
PATRICK McDONAGH

Funding concerns. Guilt about not spending enough time with your kids. Wrenching bouts of self-doubt. Squabbles with your supervisor. Ah yes, the romance and glamour of the PhD dissertation.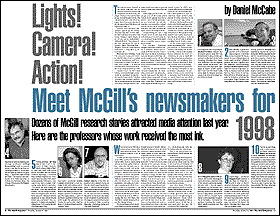 Dozens of McGill research stories attracted media attention last year. Here are the professors whose work received the most ink.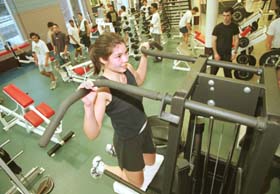 Did you put on a few pounds over the holidays? Well there's one sure-fire way to get back into shape (and no, it isn't the "miracle chocolate diet"). The Department of Athletics offers some state-of-the art facilities and a range of fitness programs. Give them a call at 398-7000.

PHOTO: OWEN EGAN