McGill states its case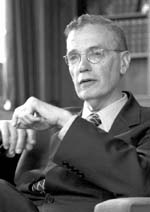 "Don't kill the goose that lays the golden egg," Principal Bernard Shapiro warned the National Assembly's Commission de l'éducation on September 10. Stating that universities are central to the growing knowledge economy, Shapiro argued that reduced support for education will weaken growth and compromise the economic future of Quebec society as a whole.
He noted that in terms of global competitiveness, our university system is falling behind. Over a 20-year period, public financial support per student fell 43%, or, in constant dollars, from $8,900 to $5,100. Meanwhile, in the United States, public support rose by 15% during the same period.
"It's not surprising that Quebec universities are having more trouble attracting and keeping the brightest students, and as a consequence may be losing some very promising research potential as well," said Shapiro, who led a delegation of McGill administrators in making the University's presentation to the commission.
He further noted the potential loss of excellent teachers due to retirement and recruitment from institutions outside the province. However, Shapiro also said that Quebec should be proud of how much progress the university system has made since the Quiet Revolution of the 1960s. He added that it's not too late to prevent further deterioration.
"It seems to me," he said, "that Quebec universities have done their part by absorbing nearly a half-billion dollars in budgetary cuts." He suggested it's time for the government to put higher education back on its list of priorities.
Karl Jarosiewicz