Dynamic scholar wanted
DANIEL McCABE

Thanks to a $1.5 million gift from the Drs. Richard Charles and Esther Yewpick Lee Foundation in Hong Kong, Robin Yates, chair of East Asian Studies finds himself in the rare position of being able to hire a senior scholar..
Reluctant poet shines
SYLVAIN-JACQUES DESJARDINS

Doctoral student in comparative French literature, Patrick Lafontaine, has won the Prix Émile-Nelligan for L'ambition du vide, his collection of poetry that he didn't even know had been submitted for the award. The prize annually awards $5,000 to the best poet, under 35, writing in French in North America.
In the NICT of time: Preparing the classroom for a new era in computers
BRONWYN CHESTER

How do you prepare education students for computerized classrooms that aren't even in schools yet? Faculty of Education professors Alain Breuleux, Robert Bracewell and Kate Le Maistre are all studying the integration of the new information and computer technologies (NICT) in six Montreal classrooms, while trying to create NICT teaching opportunities.
Avi Friedman's revolution
SYLVAIN COMEAU

Avi Friedman's Grow Homes and Next Homes team up with Hydro-Québec's Nouveau Confort energy-saving plan in a $10 million Longueuil housing project. 130 of the affordable homes will be built.
Mean on Monday?
DANIEL McCABE

Psychology professor Debbie Moskowitz's study finds that most people start off the week grouchy and end up sweet on Friday.
The privilege of working with children faced with death
BRONWYN CHESTER

Teddy bears, toy hospital implements, real medical supplies and crayons and paper are the tools of the trade for child psychologist Barbara Sourkes work with children living with a life-threatening illness -- that and her 20 years of experience.
Liberals face future
SYLVAIN COMEAU

CBC Radio and the McGill Institute for the Study of Canada hosted a nine-member panel discussion on the future of the Liberal Party in Quebec under Jean Charest. Constitutional talk, economic concerns and Parti Québecois bashing and, in the case of Claude Ryan, defending, were the order of the day.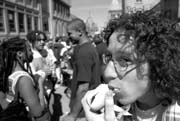 "Class-action" takes to the street
First-year biology student Aaron Cappel sinks his teeth into one of the 4,800 free hotdogs consumed last Wednesday at the Class-Action Street Fest. Most of McTavish Street was closed off to make way for the estimated 4,000 undergraduate students fêted by the McGill Alumni Association and the McGill Alma Mater Fund. Last year, 1,287 undergraduates pledged a total of $61,000 to the "class-action" program where graduating undergraduates are asked to make a donation to a particular project in their faculty. PHOTO: OWEN EGAN