Worrying about the brain drain
DANIEL McCABE

McGill is losing some top academic talents to better paying, better funded institutions. The timing is lousy, the University is also on the verge of losing a good chunk of its faculty to retirement. Principal Bernard Shapiro says this combination could spell catastrophe.
Prix du Québec awarded
BRONWYN CHESTER

Two McGill researchers were honoured with the province's most prestigious prize for artists, scholars and scientists -Clarke Fraser, Canada's first medical geneticist and Robert Zamboni, co-developer of a widely-used medication for asthma.
A museum for the ages
BRONWYN CHESTER

The McCord Museum's energetic, scholarly new executive director says her institution is "a jewel in the crown" of Canada's museums. With its extensive collections of photographs, costumes, diaries, letters and other items, the McCord is the place to go to experience a taste of the lives our forebears led.
Debate continues over religion in schools
SYLVAIN-JACQUES DESJARDINS

Should the teaching of religion take place in our schools? The government is currently mulling over the matter. A pair of education professors with different views on the issue recently took part in a panel discussion on the subject .
Sensuous scribes
MARIA FRANCESCA LoDICO

Some of the best writing in the English language was tightly linked to the way writers like Whitman and Dickinson perceived the world around them through their senses. So says English professor Kerry McSweeney, whose book on the topic was in the running for a national prize.
The assault on evolution
DANIEL McCABE

Educational studies professor Brian Alters has assembled a crack team of academics to assist him in his battle to change the minds of the half of the population that doesn't believe in evolution.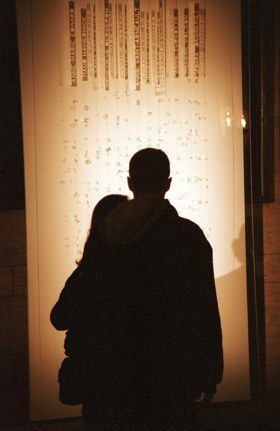 Several McGill groups organized a commemorative vigil on Monday for the 14 female engineering students who were slain at the Université de Montréal 10 years ago. A pair of McGill students examined an art installation by Susan Fowler dedicated to the memory of the murdered students. Fowler's work is on display outside of Moyse Hall. '

PHOTO: OWEN EGAN