Down but not out
DANIEL McCABE

We've dropped to number four in the annual Maclean's ranking of medical/doctoral universities. The University of British Columbia, bolstered by better funding, has skipped by us. Still, our overall score this year is better than it was last year. And Maclean's assistant managing editor Anne Dowsett Johnston says we might be the hottest university in the country.
The road to e-McGill
DANIEL McCABE

Vice-Principal (Information Systems and Technology) Bruce Pennycook says the McGill of tomorrow will be a much different looking place, one in which web-based technologies will play a pervasive role in determining how we conduct much of our McGill-related work and studies.
Cleaning up
SYLVAIN COMEAU

Sturdy bacteria that can break down contaminants. Oil "skins" that act like garbage bags. Standardized tests for determining how clean-up crews should prioritize their work. All are tools in the arsenal of Professor Subhasis Ghoshal as he sets out to make the world a cleaner place.
Health care's divergent paths
HÉLÈNA KATZ

Political scientist Antonia Maioni is an expert on how the U.S. and Canadian health care systems came to be the way they are today. She also has thoughts about how they ought to develop in the future.
Opinion: Avoiding professional prostitution
PETER MACKLEM

For Canada to succeed in the knowledge-based economy, the country's university scientists have to lead the charge. One senior scientist has his say about what they'll need to do the job right and what they shouldn't lose sight of in the process -- their integrity.
Protecting the people behind the research
SYLVAIN-JACQUES DESJARDINS

"Research for people has to be done on people," says psychologist Debbie Moskowitz. And the people being researched deserve to have their rights safeguarded. A new set of national guidelines aims to do just that.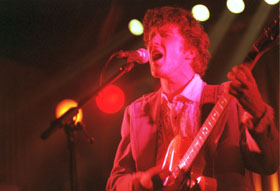 The Montreal music scene has long been enlivened by the presence of McGill students moonlighting in bands (or, perhaps more accurately, band members moonlighting as students). Rufus Wainright, the Planet Smashers, the Snitches, Priya Thomas, all earned fans at local gigs while studying at McGill. Following in their footsteps are the Potholes. Potholes front man J.M. Cohalan, by day a McGill student, led the band during a recent performance at Club Zone.

PHOTO: OWEN EGAN