Religion remains a faculty
BRONWYN CHESTER

It's the status quo for now for the Faculty of Religious Studies as a committee advises against any changes to the faculty's structure. While the faculty drew praise for its theology programs, the committee also suggested that the future of religious studies might be best served as a school within the Faculty of Arts.
Back for more
DANIEL McCABE

They've led their faculties, bruised but unbeaten, through a period of severe budget cuts. Now Dean of Science Alan Shaver and Dean of Medicine Abe Fuks plan to have more fun as they begin their second terms. The first priority will be hiring talented new professors.
Royal Society Fellows

Meet McGill's newest members of the senior national body of distinguished Canadian scientists and scholars.
Jackie O's enduring appeal
MARIA FRANCESCA LoDICO

What is it about Jacqueline Kennedy Onassis that continues to stir people's imaginations years after her death? Cultural studies professor Berkeley Kaite is writing a book that aims to answer that very question.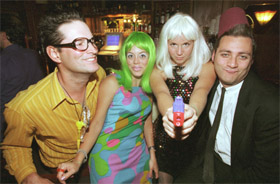 Does my thesis make you horny, baby?
A gaggle of Austin Powers and Felicity Shagwell wannabes recently coverged at Thomson House for the Post-Graduate Students' Society's "Austin Powers shagadelic theme party." A groovy time was had by one and all.

PHOTO: OWEN EGAN