David Johnston to lead Waterloo
DANIEL McCABE

Fifteen years of being McGill's principal didn't sate David Johnston's appetite for university governance. He is ready to lead another school -- he takes the helm of the University of Waterloo next summer.
Ground control to Dr. Dave
DANIEL McCABE

McGill's space-faring graduate, Dr. Dafydd Williams, visited his alma mater to share tales of his recent mission aboard the space shuttle Columbia. Williams talked about the future of the space program and going to the bathroom in zero-gravity.
Arts scene too timid
SYLVAIN-JACQUES DESJARDINS

Playwright and former book publisher May Cutler thinks the country's arts companies suffer from a "fear of the original." They'd rather work on their umpteenth production of Mozart or Shakespeare than take a chance on new Canadian talent.
A cornerstone of the collective
BRONWYN CHESTER

Shree Mulay, the director of the McGill Centre for Research and Teaching on Women, dedicates herself to building bridges between academics, scientists, activists and women's groups. She isn't impressed with the "deregulated world" we live in.
Nursing in peril
HÉLÈNA KATZ

Author Suzanne Gordon recently warned a McGill audience about the dangers of a health care system where patients are suddenly becoming "customers."
McGill School of Environment: A new director takes the helm
DANIEL McCABE

A "practical philosopher," Peter Brown has built successful academic centres before. He says the goal for the MSE is to take bright students with a passion for the environment and "keep that fire alive, maybe even fan it a little bit."
The basics of biotech
SYLVAIN COMEAU

A new graduate certificate program in biotechnology aims to train individuals for a booming industry.
Saving seahorses

Biology professor Amanda Vincent is making headway in her quest to safeguard the remarkably beautiful creatures she studies. She has earned the prestigious Rolex Award to aid her in her efforts.
McGill coping with Y2K
ERIC SMITH

The University has been wrestling with the threat posed by the millenium bug since 1995. Come 2000, we ought to be in good shape.
Marketing your scholarly wares
MARK SHAINBLUM

You've just published a book filled with your insights and expertise. Think your job is over? Guess again. That book isn't going to sell itself, you know.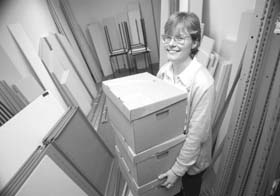 Indra Freibergs moves three of the hundreds of boxes she and colleagues from the Centre for Continuing Education packed for the big move from Place Mercantile, on Sherbrooke Street to the old Industrial Alliance building, one block to the east. Other departments accompanying Cont Ed into 680 Sherbooke include ICC, German, Hispanic and Russian & Slavic Studies and Human Resources.

PHOTO: OWEN EGAN