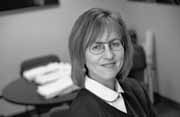 Janice McGraw: Handling campus claims
Are people at work tiring of your ice storm stories? Well, there's one person on campus who still really wants to hear from you. Janice McGraw, manager of McGill's Insurance and Risk Management Office, is responsible for collecting information on losses and damage resulting from the storm so the University can begin to figure out how much the whole thing cost.
"We want to know how people across campus were affected. Maybe they had to pay to move equipment or buy special supplies, for example. They don't need to limit their reports to losses that were insured

we're not making distinctions like that right now. We're just trying to get a sense of all the direct and indirect damages."
One department that saved the University a lot of money

even though it incurred a lot of expense

is Facilities Management. "Those costs are quite clear, at least for the time put in by people in the trades. They came in throughout the blackout and did a fantastic job in terms of preventing and mitigating loss."
Prevention is an important aspect of McGraw's job. While she does spend a considerable amount of time dealing with loss, theft and damage after it has occurred, she contributed to the process when the University revised its Disaster Plan a few years ago. She also chairs McGill's Fire Protection Committee. "I meet with representatives from the Environmental Safety Office, Facilities Management and Development, Legal Advisor's Office and Macdonald Campus. Our departments share the same goals in terms of monitoring safety and fire conditions and looking at ways to improve them."
The other side of McGraw's job requires considerable sensitivity. "Claims are the most difficult to deal with because people are under a lot of stress. Perhaps they are displaced, or some equipment they need for their job has been stolen or damaged. Our job is to restore them as much as possible to the position they were in before the claim. But sometimes things aren't insured or there are delays."
Whatever the difficulties, she is happy in her work.
"I think it's one of the most interesting jobs on campus. It's very dynamic, there are new requests and initiatives every day, it's challenging and people oriented. I really enjoy it."
McGraw started work at the University in the 1970s at McGill-Queen's Press, moved on to do a short stint at the Graduates' Society, and then was hired to work in the Treasury Office. After 10 years there, she moved around in financial circles, working for the executive financial officer, the comptroller, the pension department and finally, returning to work for John Limeburner, the current treasurer, in the Insurance and Risk Management Office.
"I've come full circle. It's like returning home," says McGraw. One thing hasn't changed during her career. She began taking courses in insurance when she first worked in the Treasury Office and kept them up to stay current. Gradually, she took other related courses, collecting a few certificates along the way, and now, after 25 years at McGill, she is enrolled in a BA program in industrial relations.
"I'm really still in the early stages, the equivalent of first year. I'm afraid my children will get their degrees before I do!" she says, laughing. "It's a long process. Most of my classes are at night, but I've taken some during the day. I enjoyed them so much because you get to meet our undergraduates. McGill has this means of keeping us young

by exposing us to students."
McGraw was inducted into the University's Quarter-Century Club last year, and calls the moment "memorable." She adds, "I sometimes feel as if I've been here forever, so I was actually surprised at the depth of pride and emotion I felt. I realized how many opportunities I've had here and it all seemed to come together just then."
Diana Grier Ayton