The Office of Technology Transfer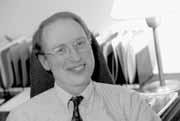 Dr. Alex Navarre

PHOTO: OWEN EGAN
Pierre Bélanger, Vice-Principal (Research) and Graduate Studies, is pleased to announce the appointment of a new Director for the Office of Technology Transfer (OTT), Dr. Alex Navarre.
Born in France, Dr. Navarre came to Canada more than 30 years ago. He obtained a BSc at Université Laval, and then came to McGill for his graduate studies (MSc'72 and PhD'76) in chemistry, under the supervision of Professor John Harrod. He subsequently earned an MBA from the University of Western Ontario.
Dr. Navarre brings to McGill a diversified range of experience in both industry and government. He worked at several branches of Dow Chemicals, including Varennes (Quebec), where he headed a small R&D and technical services unit. Dr. Navarre also did some work with the Canadian Patents and Development Ltd., a federal agency involved in commercializing intellectual property.
In 1979 Dr. Navarre joined the federal government, where he held different positions related to economic development, innovation and financing issues. From 1982 to 1987, he worked at the Department of Finance in Ottawa on such issues as the development of small business and risk capital. In 1987, Dr. Navarre joined the Picard Task Force on the development of the Montreal region, and later, the Federal Office of Regional Development, where he worked until the end of 1997.
His responsibilities included projects in biotechnology, environmental sciences, aerospace and information technologies. He was also instrumental in the implementation of the Canadian Technology Network and participated in numerous initiatives aimed at reinforcing high technology sectors and assisting the emergence of small businesses.
Dr. Navarre will head a group of professionals at OTT. He will bring a fresh view to this function at a time when commercialization of technologies and university spin-off enterprises are set to play an important role in the economic development of the country.
Ice storm affects MRC deadlines
Due to the impediments associated with the ice storm in the Montreal area, the MRC has agreed to postpone the deadline for full grant submissions from March 2 to March 9. Please note, however, that pages 1, 2 and 7 of the form must still be submitted by March 2 (signatures not mandatory).
There are several other changes to the MRC guidelines as a consequence of the ice storm; for more information please visit the website of the Research Grants Office (http://ww2.mcgill.ca/fgsr/rgo.htm) or call RGO at 3996.