Water, water everywhere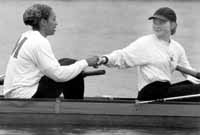 It was wet and chilly last Saturday--so cold, in fact that Michelle Pampin couldn't straighten her fingers as she coxed for four McGill rowing teammates taking on a team from Queen's University.
Even the driving rain didn't put a damper on the first annual McGill-Queen's challenge held at the Olympic Basin on Ile Ste-Hélène. Forty-eight rowers took part in the event, successfully establishing a new sporting tradition for the two schools, and drawing a surprisingly large crowd of McGill rowing alumni--including Senator Alan Macnaughton, a former speaker of the House of Commons.
Modeled after the famous Oxford-Cambridge Boat Race, the event borrows from the intense football rivalry between McGill and Queen's. According to Pampin, McGill and Queen's have two of the top university rowing teams in Canada.
The clubs competed for the Lorne Gales Challenge Cup--named for the former executive director of the Graduates' Society, a top-ranked rower in his day. Gales helped reestablish McGill's rowing tradition in the 1970s and would have been pleased with Saturday's results. McGill won every race but one and kept the Gales Cup at home.
Pampin, a past president of the McGill Rowing Club and a graduating student in industrial sociology and economics, expressed pride in all the competitors. "Senator Macnaughton put it best--it was not that McGill won, but that as athletes we chose to compete despite the conditions."
Above, McGill rowers Asiedua Asante and Andrea Bernston congratulate each other after their boat won the women's eight race.