December 5, 1996
The musical phrases of Margaret Atwood
by Mark Shainblum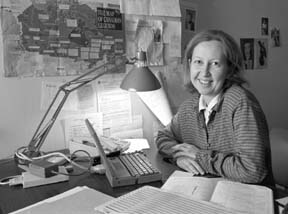 English professor Nathalie Cooke
It seems hard to believe, but it's a reality. According to McGill associate professor of English Nathalie Cooke, Margaret Atwood, the reigning queen of CanLit for almost a full generation and author of such resoundingly important books as The Edible Woman, Lady Oracle, The Handmaid's Tale and Cat's Eye, has never been the subject of a literary biography. The obvious question is, of course, why not?
"It's because Atwood is not dead," Cooke laughs. "Rather, she's very much alive and kicking, and producing work at such speed that no mere mortal can keep up with her."
Perhaps not, but mortal Cooke is about to give it a try. A specialist in Canadian literature who has been teaching at McGill since 1991, Cooke is currently giving a graduate course on Atwood's writing, in addition to her undergraduate Canadian literature and poetry survey courses. She is also the recipient of the first Louis Dudek Teaching Award, a prize initiated and sponsored solely by students in the English Department.
"I was honoured," she says, when asked about the prize. "It was a particular honour because it was a student-initiated award, which made it very special."
Cooke has long been fascinated by Margaret Atwood's oeuvre, so much so that the official lecture she presented when she applied to teach at McGill in 1991 was a discussion of Cat's Eye. She has been able to further indulge this fascination lately, putting in long hours at the University of Toronto's Archive delving through some 200 boxes of Atwood material collected over the years.
Her upcoming book, with the working title Presenting Atwood, will be one of the first to include references to several unpublished Atwood works, including three novels. Cooke also has access to voluminous private correspondence between Atwood and Toronto painter Charles Pachter, and has interviewed dozens of Atwood's literary colleagues, her friends, her agents and her publishers.
Though the book is officially an "unauthorized" biography, Cooke makes no secret of the fact that she is in fairly regular contact with Atwood and has her support in pursuing the project.
"Being a living writer who's the subject of a biography must be an incredibly awkward position to be in," Cooke says. "Given that, I think she's been incredibly professional and incredibly patient."
Presenting Atwood is a literary biography, Cooke emphasizes. The author's personal life is presented as a backdrop to her literary development. Her life illuminates her fiction and her fiction illuminates her life.
So, is an overall picture of Margaret Atwood emerging? Is there some single point in space which defines Margaret Atwood and her work?
"This is the tough question," Cooke sighs. "It's the 'nugget' question--'Give me Atwood in a nutshell.' I suppose it's that her work is endlessly surprising. Her recent novel, [the Giller prize-winning] Alias Grace, is the best example of that. I was really blown away by the fact that I couldn't have predicted this particular move in terms of her literary interests. She's becoming more sceptical. Her first novel, Edible Woman, challenged the validity of a plot line--you know, the heroine plot, 'woman falls in love, gets married, lives happily ever after.' Alias Grace challenges the validity of one word: murderess."
Adds Cooke, "There are phases in Atwood's career that are rather like musical phrases. With The Robber Bride it was as though we had come to the end of one phrase and with Alias Grace we've started another.
"The change in her voice has to do with an art she has been practising--the art of ventriloquism," Cooke explains. "All writers are ventriloquists, if you think about it, but Atwood's one of the best these days. You can't even see her lips move. Not only is she extending her repertoire of puppets--the range and depth of characterization--but their voices are richer now, deeply engaging, and they are more capable of speaking for themselves."
Atwood is incredibly serious about her work, Cooke says, viewing it as both her profession and her vocation. "Those words sound like they've just been pulled out of thin air, but they're her words. They're loaded terms that she uses. This probably will be the gist of the biography."
Although intense in her approach to work, Atwood also has a wonderful sense of humour, according to Cooke.
"In the '70s, just as she was becoming a Canadian icon and her book of criticism, Survival, was the object of serious attention, she could easily have slipped into the trap of taking herself too seriously. Instead, she drew a cartoon strip for This Magazine under the pseudonym Hart Gerrard called Kanadian Kulture Komix. It starred various superheroes--including my favourite, Survival Woman, who battles a blimpish behemoth, Superham, a powerful neighbour to the south, using the oh-so-Canadian weapons of wit and irony."