November 21, 1996
Art partnership paints a rosy picture
by Eric Smith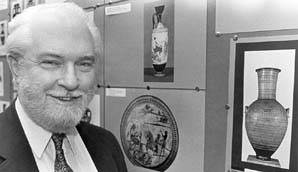 Professor John Fossey, chair of the Department of Art History
A cooperative arrangement between McGill's art history department and its counterpart at the Université de Montréal may point the way for McGill departments to forge links with other Montreal universities.
Under the agreement, which went into effect this year, art history courses at both institutions are listed in each others' calendars and students are encouraged to take courses at both institutions. In most McGill departments, courses taken at other universities are counted for credit towards a degree, but course marks from outside McGill are not calculated in a student's grade point average. Art history students who take courses at Université de Montréal will have their grades applied to their average.
According to McGill department chair John Fossey, the programs at McGill and Université de Montréal are ideally suited for this arrangement. "[Université de Montréal's] strength lies precisely in the areas where this department's strength used to lie, namely 15th to 19th century European art, painting, sculpture," said Fossey. "But this department has changed very radically over the last three or four years. We have moved now more toward the periphery, so our strength now lies in ancient art and archaeology and medieval art and archaeology on the one hand, and contemporary media art on the other."
Conversely, according to Fossey, "They have only one person for medieval, and only by cross-listing do they have anybody for ancient, and they don't have contemporary media but they do have film which we don't have. The two really complement each other."
Constance Naubert-Riser, chair of Université de Montréal's department agreed: "Although our program is much more complete, we found that the two programs were largely complementary."
Each semester a professor from one university will give a course at the other. This semester Université de Montréal professor François-Marc Gagnon is teaching a course on abstract expressionism at McGill. Next semester, McGill contemporary media professor Christine Ross will be teaching on the other side of the mountain.
Dean of Arts Carman Miller agrees that the art history experiment will likely be instructive. "It is in my view an example of what we might be able to do with other departments."
Fossey conceded there was some apprehension among students when the program was being developed. "Part of the problem was very simply that we really are riding a tiger, it's moving very fast and students did not feel they were getting enough information." But after question-and-answer meetings with students, Fossey said, "The student reaction has been 'now we know more what it's about, it's not quite so threatening.'"
Fourth-year art history student Charlotte Kaiser agreed. "I was pleasantly surprised with how things worked out," she said. "Initially students felt cheated, like their department was getting shafted by the cuts."
Kaiser has been attending Professor Gagnon's abstract expressionism course. "The course is amazing. In terms of Professor Gagnon's class, the project has only been positive ."
Language has proven to be less of a barrier than had been expected, according to Miller. "There is greater linguistic mobility among our students than either institution seemed to understand."
And Naubert-Riser said of McGill students in her courses at Université de Montréal, "Things are going very well. I find they express themselves very well in French. They seem happy."
Both McGill and Université de Montréal allow students to submit all work in either language. And Fossey said that for students who are not able to follow courses in French, it will still be possible to complete a degree at McGill.
"Each department will maintain a minimum program so the student can do his or her degree in the one department," he said. "If students want a really wide range of choice in course requirements, then they will be very strongly encouraged to take advanage of the availabilty of courses in the other department, but no student will come to McGill and not be able to do a McGill degree."
One stumbling block the program has run into is timetable conflicts. A Université de Montréal course is given once a week for three hours, whereas McGill courses are divided into two weekly hour-and-a-half blocks.
"There are a number of problems," said Miller, "but they are human problems with human solutions, if we are resolved to solve them. While one might be able to work out something on a bilateral basis, that'll take a little time to sort out."
Fossey, for his part, is thrilled with the results of the project so far. "I'm wild about it," he said. "This is my 28th year at McGill and this is one of the most exciting things that has happened to me here. You don't often get chances in life to build something that's quite as new."