November 7, 1996
Savoie says HR, staff have to adjust to changing work environment
by Daniel McCabe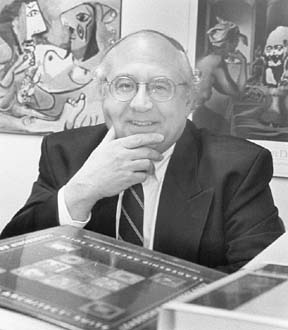 Robert Savoie, executive director of the Department of Human Resources
Robert Savoie, executive director of McGill's Department of Human Resources, recently gave the University's managers a glimpse of the sorts of changes they can expect to see from his unit in the months to come.
Speaking at a recent Management Forum session, Savoie says he wants his department to do a better job in equipping managers with the skills they'll need to supervise staff in increasingly challenging times. He also wants the University to be more proactive in gauging the skills of its employees so that they can better cope with an environment in which some jobs disappear while new types of work emerge.
Savoie indicated that he wants his own department to undergo a top-to-bottom review of all its activities and services. Two workgroups have been formed for that purpose and Savoie said comments from the McGill community are more than welcome. "In fact, don't be surprised if you're invited to take part in a focus group sometime soon."
One workgroup, headed by records and systems manager Alison Verkade, will take stock of all of HR's services--everything from handling appointment forms to managing health and safety cases.
"That group will take into account the needs of our customers at McGill. Do we still need all these services? Can we do a better job in delivering them? Are there other more important services we should be focusing on instead?"
The other workgroup is led by salary administration manager Jean-Claude Provost. Its task is to develop mechanisms for assessing how well the Department of Human Resources does its job. "We want to develop benchmarks and see how well we compare to HR departments at other universities and in industry." Unfortunately, Provost recently suffered a heart attack, and his workgroup will pause as he recuperates.
Savoie admitted that McGill's budget for training staff is small, but he added that the University is investigating new ways to offer its employees training. "We just concluded an agreement with Concordia whereby our staff will be able to take advantage of some of their excellent training programs." Savoie indicated McGill might work out similar partnerships with other universities.
He asserted, however, that proper training isn't possible unless an employer has a good sense of the abilities and shortcomings of its staff. "We don't do any assessments of our employees for their potential to do different sorts of work."
Savoie thinks the Department of Human Resources ought to be much more active on that front. "As new types of jobs appear, what sorts of skills will be needed? Do we have people with those skills? We should see where there are gaps between the skills people have and the skills they will need to do these jobs so we can find ways to fill those gaps."
He predicts that having a flexible workforce is going to be even more essential as the nature of work continues to change profoundly. "In some ways, young people are better equipped to handle the [job environment] than their parents are. They're used to shifting from one type of job to another. They're used to working on contracts and to juggling different kinds of work.
"The world of work is changing in ways we've never seen before. We won't see people with 30 years of experience in the same place anymore."
Given that environment, "we have to do more to help managers manage. We have to make sure they're equipped with the sorts of skills they'll need."
With budget cutbacks taking their toll on the University, Savoie says he understands that staff morale has suffered as a result. "It's natural. It's hurting other universities as well. But morale is often what you make of it. There are enough reasons out there to destroy morale every day. But this is still a great place to work--I've seen worse. Ask yourself, 'What can I do to make things better?'"
Savoie said that in the current climate, the administration is open to all suggestions about how the University goes about its business. If someone has a good idea, "they really can change the way the University does things."
During the discussion period, several managers criticized the University's performance appraisal system. The incentives for doing exceptional work were paltry, argued some, while other managers decried their bosses' inability to offer them quality feedback.
The managers also took McGill to task over staff morale, stating that the administration needed to pay closer attention to declining morale on campus.
"There are plenty of people at McGill who have worked here knowing full well they could make more money elsewhere and who weren't frightened by the notion of 'doing more with less'--they welcomed the challenge," said one manager.
"There used to be a sense that McGill took care of you. Things seem nastier now and we're starting to see good people leave the University--top-notch people. Staff are saying, 'Nobody cares about me anymore.' It would be nice to have [administration representatives] talk to us and say, 'We have a plan. We know where we're going. We appreciate your contributions."
In an interview with the Reporter following his presentation, Savoie insisted that there is no easy fix for concerns about staff morale. "There are many things involved when you talk about staff morale. Human resources isn't a cure-all, nor is training for that matter." Savoie said HR might be able to help improve morale by ensuring that McGill staff are able to cope with the changing demands of the workplace. "Maybe we can expand the horizons of some people and increase their employability.
"Ultimately, though, responsibility for one's career starts with the individual. The employer has important responsibilities--ensuring a safe working environment, for instance. But you have to play the major role in managing your own career. You can't expect somebody else to do it for you." Savoie acknowledged that McGill has to do all it can to retain its best employees, but in the final analysis, "we won't be able to keep the same kind of loyalty in the future."