Doctor of Music
Charles Dutoit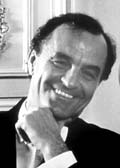 Charles Dutoit has been the music director of the world-renowned Montreal Symphony Orchestra since 1977. Maestro Dutoit and the MSO have produced over 70 recordings since 1980 which have won 40 international awards such as the Grand Prix du Président de la République (France), the High Fidelity International Critics' Award, the German Music Critics' Award and the 1995 Grammy Award for Best Opera Recording (for Berlioz' Les Troyens).
Dutoit and the MSO are annual visitors to New York's Carnegie Hall where they regularly play to capacity audiences and the orchestra is the only Canadian symphony to have performed at the Hollywood Bowl. Dutoit was named "Musician of the Year" by the Canadian Music Council in 1982 and the Quebec government named him Grand Officier de l'Ordre national du Québec in 1995. In addition to his MSO duties, Dutoit is music director of the Orchestre National de France and principal conductor of the NHK Symphony Orchestra in Tokyo.
Doctor of Laws
John W. Dobson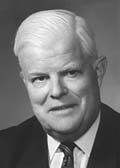 As a McGill undergraduate in the 1940s, Dobson was one of the organizers for McGill's first-ever Winter carnival--conceived as a means for returning a sense of spirit to the campus in the wake of World War II.
In 1960, Dobson left Dominion Engineering, where he was Assistant to the President, to found Formula Growth Fund, an investment firm specializing in small capital ventures that has earned international recognition. Dobson has a longtime interest in the issues surrounding entrepreneurship and in 1986 established the John Dobson Foundation to support small business initiatives and research on subjects relating to entrepreneurs. The foundation created and funds the Dobson Centre for Entrepreneurial Studies in McGill's Faculty of Management. The foundation also supports the St. Mary's University Business Development Centre and YMCA initiatives aimed at aiding new businesses.
Doctor of Laws
Huntingdon Sheldon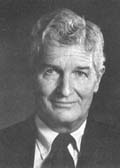 A one-time member of the Department of Pathology and a former Royal Victoria Hospital physician, Dr. Huntingdon Sheldon was highly regarded as an outstanding teacher and mentor during his 30 years as a McGill professor. Sheldon directed McGill and the Royal Victoria's autopsy service for several years. He served as the associate editor for the Canadian Journal of Zoology and on many University and faculty committees. Sheldon's support enabled McGill to create the Sheldon Biotechnology Centre, a research unit and resource centre involving scientists and clinicians from the Faculties of Medicine and Science and from McGill's teaching hospitals. Sheldon is also a member of the Faculty of Music's advisory board.