October 24, 1996
Unit tackles medical ethics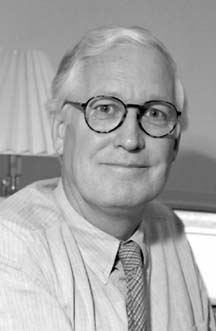 Dr. Edward Keyserlingk, director of McGill's Biomedical Ethics Unit
by Sylvain Comeau
The Faculty of Medicine's new Biomedical Ethics Unit launched its first academic year by co-organizing the eighth annual conference of the Canadian Bioethics Society last weekend.
The conference featured presentations by students and faculty on a wide range of issues involving medical ethics, which is precisely the academic terrain that the Biomedical Ethics Unit is committed to covering.
The unit was established last June, by recommendation of the Academic Policy and Planning Committee, in response to internal differences in the Centre for Medicine, Ethics and Law. The unit was formed by several former members of the centre, which is now headed by history professor Michael Maxwell, a two-time dean of arts.
One of the unit's members is Dr. Benjamin Freedman, a professor of medicine and a staff ethicist at the Jewish General Hospital who is also affiliated with the Department of Philosophy. "It's an idea that was long overdue," says Freedman of the new unit.
"Through the centre, McGill had gathered a number of people who had specific expertise and interests in biomedical ethics. But the framework of the centre was very diffuse and unfocused. It didn't offer an organizational structure with which we could develop resources, services and facilities for bioethics. Within this unit, we now have that framework."
Adds Dr. Edward Keyserlingk, the unit's director, "We now report directly to the Faculty of Medicine, whereas in the centre we reported to three separate faculties. This makes things much less complicated."
Although the Centre for Medicine, Ethics and Law has lost many of its medical specialists to the new unit, Maxwell says the centre's research programs are unlikely to change all that much. The centre still includes Dr. Margaret Somerville and Dr. Norbert Gilmore, prominent academics who have long dealt with medical ethics. "We'll just go on with what we were doing but with reduced numbers."
The new unit will tackle a challenging, fourfold mandate: coordinating undergraduate and graduate education in bioethics and health law in the Faculty of Medicine, coordinating clinical ethics services to McGill and its teaching hospitals and affiliates, cooperating with other universities to provide interdisciplinary studies involving bioethics, and conducting research on the emerging ethical issues raised by medical practice and technology.
"If we can't offer some help for real-life issues, our research would become a theoretical exercise. Our goal is to marry vigorous thinking about the rights, the principles and the duties involved [in biomedical issues] with the real-life context, and offer some help," says Keyserlingk, a professor in the Department of Social Studies in Medicine and a clinical ethicist at the Montreal General Hospital. Keyserlingk is conducting an ongoing research project examining how foreign cultures deal with medical ethics.
Freedman is examining the conflicts of interest which threaten the integrity of private research ethics boards. Trudo Lemmens, a PhD candidate in the Faculty of Law, is collaborating with Freedman on this project.
"There are two kinds of private ethics boards," explains Freedman. "One kind are for-profit organizations, made up of freelance professionals, who get paid for each protocol they review. The problem is that it is in their interest to approve protocols in order to continue getting business from companies. Once they get a reputation for turning down protocols, their business will dry up.
"The other kind are proprietary boards--established and held in house by a pharmaceutical company, or contract research companies which review the research for the companies. You could say that this is a case of putting the fox in control of the henhouse."
One area of particular concern is genetic research, which has created an entirely new category of sensitive personal information which may need to be protected. Kathleen Glass, a professor in the Department of Human Genetics, is also a member of the unit's Clinical Trials Research Group (CTRG), which is currently examining the design, review and implementation of clinical trials in genetics. Specifically, they are looking at the issue of third-party access to genetic information.
"Genetic information is often shared with a third party; it doesn't always stay between the doctor and the patient. Among those third parties are insurance companies, who may want to use that information for their risk calculation. A lot of people are concerned about that, because they feel they might be discriminated against just because they carry a particular gene and are at risk of developing a disease which may or may not manifest itself."
Glass has just published the first of three research papers, written with human genetics professor Roberta Palmour and CTRG collaborators Charles Weijer, Stanley H. Shapiro, Trudo Lemmens and Karen Lebacqz, in the July/August issue of the Journal of Institutional Review Board. The paper provides guidelines for review boards, who are responsible for approving research projects.
"We are providing the review boards with a critical set of questions they should be asking when reviewing research proposals. One of those questions is: Has the research subject been informed that there may be a third party, like an insurance company or immigration officials, interested in this data?
"The information is confidential when someone participates in a research project, but when you apply for a life insurance policy, for example, you could be asked to waive that confidentiality and give the company access to your file. People undergoing genetic testing should be made aware of that, so that they can weigh that risk versus the benefits, and make a more informed decision."
With medical discoveries being made on a daily basis--and with each carrying along with it the potential for new ethical dilemmas--it doesn't seem likely that the new unit will ever run out of interesting topics to study.