October 10, 1996
The power and politics of White House marriages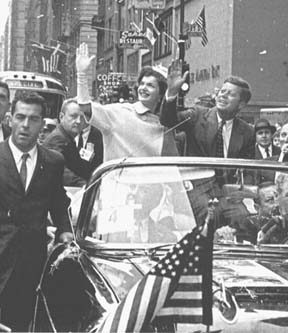 History professor Gil Troy examines presidential marriages in his latest book. The Kennedys created a "very alluring" ideal but in fact, Troy says, theirs was a loveless marriage of convenience.
by Daniel McCabe
Shortly after publication of his last book, See How They Ran, Gil Troy had lunch with his editor. "She wanted to know what my next book would be about," recalls Troy, an historian whose previous tome dealt with U.S. presidential elections. The conversation steered to the newly-engaged Troy's wedding plans, when the idea for the next book struck him--why not write about presidential couples?
Now married, Troy spent much of this summer putting the finishing touches on his new book and is clearly enthusiastic about his subject matter. "This might be the first book of its kind ever written," says Troy. "There are dozens of books about American first ladies and hundreds about the presidents, but no book has ever really examined how presidents and their wives work together as couples in the White House." Titled Affairs of State: The Rise and Rejection of Presidential Couples, the book will be published in January.
In See How They Ran, Troy argued that the demands placed on presidential hopefuls by the public were often contradictory--the candidates were expected to be tough, yet sensitive and caring; above the fray, but willing to mix it up; a philosopher king and a common Joe.
Troy thinks presidential wives have to contend with double standards of a different sort. In a panel discussion on the role of first ladies that aired on the television show Think Tank last year, Troy spoke about how first ladies, dating back to Bess Truman and Mamie Eisenhower, receive conflicting messages. "People say, 'We want you to help us out, we want you to take on more of a leadership role.' And at the same time, when first ladies do take more of a role, everybody says, 'Whoa, you're overstepping your bounds, you're Lady Macbeth.'"
Both candidates for the American presidency this year are married to assertive, bright women who've forged impressive careers for themselves. Hillary Clinton was a high-powered attorney. Elizabeth Dole is president of the American Red Cross and a two-time federal cabinet secretary.
Watching the Republican and Democratic conventions recently, Troy thinks it's telling that both women downplayed their own accomplishments--emphasizing instead their devotion to their husbands and to their families.
"In 1992, Bill Clinton used to joke that if he was elected, Americans would be getting two presidents for the price of one," notes Troy. In fact, shortly after his victory, Hillary was put in charge of health care reform.
Troy says Hillary Clinton's prominent role in the administration didn't sit well with Americans--who were also upset when other first ladies such as Rosalyn Carter and Nancy Reagan seemed to take on too active a role in their husbands' administrations.
"First ladies have always come under fire," says Troy. "Americans are very suspicious of power. They see the president's wife as being unaccountable--she has the inside track with the president, but there is no check on her power. She isn't elected. She can't be fired."
In reaction to these sorts of criticisms, Hillary Clinton has undergone a political make-over, says Troy. The once fiercely outspoken Clinton "now just talks about kids and raising families. She was on the Larry King Show recently and he was trying to get her to talk about policy issues. She just laughed and said, 'Oh now Larry, you know that's not my domain.'
"The real power of first ladies is in image building," asserts Troy. "Presidential wives play a crucial role in defining their husbands for the public."
Troy says that Americans, ever eager for clues about what makes their leaders tick, turn to presidents' wives for cues. Nancy Reagan may have been an especially unpopular first lady with the American people, but she was adept at bolstering her husband's image as a likeable father figure.
A first lady can also wreck havoc with her husband's image. Troy points to Betty Ford as a prime example. "She was very forthright and the press loved her. The media thought, 'This woman is honest and real.''
But she damaged her husband's re-election hopes by publicly disagreeing with his views on drugs and abortion. "Gerald Ford was a conservative Republican trying to court the support of his party's right wing and his credibility was undermined by the things she'd say."
Ironically the White House marriage that became the model for other presidential couples--Jack and Jackie Kennedy--might have been the most loveless match in recent White House history.
Troy is blunt in his assessment of that union. "Just disgusting. Right from the start, it was a marriage of convenience. He needed a wife to be politically successful. She went in knowing full well what he was like. He had quite the reputation as a playboy, but his wealth and charisma appealed to her. He would leave her at parties, very obviously to go off with other women. According to several accounts, she threatened divorce at one point, but his father Joe Kennedy asked, 'What's your price?' They made a deal, and she stayed.
"The Kennedys created this very alluring ideal--it's an ideal that other presidential couples, in one way or another, have aspired to. But as we find out more about what their marriage was really like, it's led to a very cynical view about presidents and their marriages."
Which is largely unfair, says Troy, who spent months researching White House marriages in the various presidential libraries and who had access to personal letters, confidential memos and diaries. "Most of these marriages were actually quite good. The Reagans were an amazing love story--they couldn't keep their eyes off each other. They were always touching."
The pressures of the presidency can place a strain on the strongest of marriages, but it can also steer a sometimes shaky union to surer ground. Bill and Hillary Clinton, rocked by the allegations over the Whitewater affair and by their failed attempt to restructure the healthcare system, have become visibly closer. "It seems as if their marriage has intensified. That they need each other in ways they didn't need each other before," muses Troy.
As a relative newlywed, Troy says writing the book has been enlightening. "One of the things I've really learned from working on this is that every marriage has its ebbs and flows. Looking at the presidential marriages, you see months where the relationship breaks down and periods where it heals and becomes vital again."