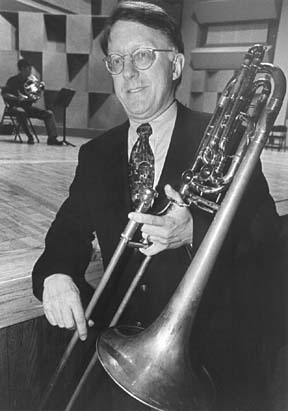 Richard Lawton was probably better prepared than most new deans when he took over the helm of the Faculty of Music this summer. Last year his predecessor, John Grew, appointed Lawton to head up a workgroup charged with establishing priorities and directions for the faculty.
Having spent months mulling over the future of music at McGill, Lawton will now play the determining role in steering his faculty toward the next millennium.The workgroup exercise was valuable, says Lawton, but some of the music professors who shared their views with his workgroup are likely to be disappointed.
"There was no shortage of opinions about what our problems were," recalls Lawton. "But the solutions proposed tended to be, 'We need to spend more money on this' or 'We need to spend more money on that.'"
With budget news from the Quebec government looking increasingly dire, Lawton says his faculty needs to trim expenditures before it can even begin to contemplate spending more money.
It's a point the new dean forcefully made to his colleagues at a recent faculty council meeting. "I told them that we have to make choices about what we are no longer going to do--that got everyone's attention right away," recalls Lawton with a chuckle.
"I also asked them to think about what new activities we should become involved in. I certainly don't think we can stand still academically, but we simply can't afford to explore anything new until we make decisions about the activities we won't be involved in anymore."
In addition, Lawton asked his professors to think about making the faculty's administrative structures more efficient and less costly. He also wants input on changes to the curriculum and ideas about new ways to raise revenues.
Like any good professor handing out an assignment, Lawton has given colleagues a firm deadline. "The time for talk is fast ending. We have to start implementing changes by the end of February."
While he is open to suggestions, Lawton has some strong ideas of his own about what needs to be done--particularly on the subject of the curriculum. More than some music schools, McGill encourages students to get a taste of music courses outside their own specialties. Students in the Department of Performance are required to take some courses in theory and theory students must take classes in performance.
Still, Lawton thinks music students need to receive a broader form of education. "Our degrees--for the most part--prepare students to go into professional performance or into university teaching. The training they receive tends to be very narrow. That doesn't reflect what is going on today in terms of the jobs available. I don't believe young musicians can afford to become too specialized."
If a young cellist or violinist is talented enough and lucky enough to snag a position with the Montreal Symphony Orchestra, she'll do fine, says Lawton. "MSO musicians earn about $55,000 a year. But there are very few orchestras of that size in North America today. The jobs that tend to be available are with orchestras in places like Thunder Bay where the musicians receive about $6,000 a year to perform on a part-time basis. Obviously, that's not enough to live on."
Lawton says young musicians have to be adaptable enough to take on other sorts of jobs. "Someone might have to play in a couple of different types of musical ensembles, write program notes for CBC Radio and teach courses--many graduates will require a package of skills."
The dean thinks his faculty's curriculum needs to reflect this trend--by giving students a better training in how to communicate without their instruments. "A skill that I think is vital for musicians is the ability to express themselves well--particularly in writing. Music students tend to be called to task for not expressing themselves as clearly as one would like."
Lawton also thinks most music students should have some grounding in the evolving musical technologies that are changing the way music is recorded and performed.
If the dean believes students should be prepared to take on an assortment of roles, that might have to do with his own experience as a musician. A trombone player, Lawton has performed with the Montreal, Kingston and Sherbrooke symphonies and he has worked with famous musicians with less high-brow aspirations, such as Liberace, Julio Iglesias and Sammy Davis Jr. He was also a member and co-founder of the Mount Royal Brass Quintet which recently released a CD featuring some of its best tunes.
That versatility extends to his academic performance. An opera buff, Lawton created a popular undergraduate course about opera that draws students from outside the faculty. The one-time director of the concerts and publicity office is widely credited with modernizing the faculty's approach to promoting its performances. He guided the Department of Performance as its chair for 16 years.
More recently, as the director of graduate studies for performance, he helped plan the creation of a new doctoral degree, although Lawton seems to be having second thoughts.
"There is a glut of PhDs right now in music, especially in the United States where it's become a real problem. Is it ethical to ask someone to spend years training for a profession that doesn't much exist right now? Maybe the master's should be the end degree at McGill, but we could transform it into a really interesting degree that would prepare students for a wide range of things."
His faculty faces some tough choices in the months ahead, but Lawton insists that "not all is gloom and doom." The faculty has in fact recently received very encouraging news about its plans for a new building.
When Quebec Minister of Education Pauline Marois visited McGill recently for Open House, she announced a $1 million grant towards the cost of the building. "The government still hasn't given us official approval, but obviously this is a very hopeful sign," says Lawton.
"If we don't have the building on campus with the worst facilities for teaching, I'm certain that we come awfully close," claims Lawton who hopes that a new building bordering the existing Strathcona Music Building will be completed by September 1999.
The new building will house several state-of-the-art rehearsal and performance rooms--some of which will be linked to electronic recording equipment. "We'll have space in one room for a 100-piece orchestra and a 200-member choir," says Lawton. Plans also include a 30,000 square foot library. "We'll have interactive media, CD-ROMs, computerized databases--our head librarian recently told me that we'll have between 12 and 15 different sorts of media--of which paper will be only one."
While facilities might currently leave a lot to be desired, Lawton has no doubts about the quality of his students.
"I'm confident in saying we are the leading music school in Canada and our students are a major reason for that. Our student music ensembles are all exceptional. Our undergraduates are doing work that rivals many professional ensembles. We have the only student symphony orchestra that I know of that has received the opportunity to perform with an orchestra the calibre of the Montreal Symphony." That historic concert will take place on November 3 at Place des Arts.
The dean says he'll be ready to pass judgment on his own abilities within the next two years. "If in (that time) we start construction on the new building and if the changes to our curriculum and administrative structures are set on the right path, then I'll have done a good job."
The lowdown on Lawton
Every time the Faculty of Music embarks on a major new construction project, Richard Lawton is assigned a starring role. When the faculty first moved into the Strathcona Music Building in the 1970s, Lawton planned the process and worked with the architects and renovators. He helped design Pollack Hall when it was built a few years later, and since 1991, has acted as the faculty's advisor on plans for the proposed new music building.
"I have no professional qualifications whatsoever. It's a labour of love," explains Lawton. His father was a McGill-trained architect and while Lawton became a musician, the apple didn't fall far from the tree. "I'm always putting things up and tearing things down in my home."
"Richard is constantly doing home repairs. He is a great handyman and he builds some of his own furniture. Some of his work is quite mind boggling," says music professor John Grew.
A McGill music graduate (1966) who was one of the first students ever to perform with the Montreal Symphony Orchestra, Lawton earned a master's in music at Indiana University--one of the top music schools in North America--in 1968. He majored in trombone studies and minored in music history and literature.
He is probably the first McGill dean who has shared a stage with the likes of Liberace and Sammy Davis Jr. "I didn't think much of Liberace as a piano player, but he was an incredibly professional entertainer," recalls Lawton. "He would do two two-and-a-half hour shows each day and they would vary by about 30 seconds. You knew exactly when he would tell a joke and exactly when the next number would begin."
Davis was a different kettle of fish. "There would be certain songs he would always do, but he liked to be spontaneous. Every so often he would turn to the musicians and say 'Oh let's do such and such a number,' and we would scramble to keep up."
Lawton's colleagues hold him in high esteem. "He's a pleasure to perform with and a pleasure to work with. Richard has his own strong views, but he's always open to new ideas," says Robert Gibson, a faculty colleague who played with Lawton in the Mount Royal Brass Quintet.
"He has the kind of mind that can grasp anything," says Anne Holloway, the graduate studies secretary in the Department of Performance. "I've never once seen him in a bad mood and I've been here since 1969."