September 26, 1996
Solar car ready to blaze a trail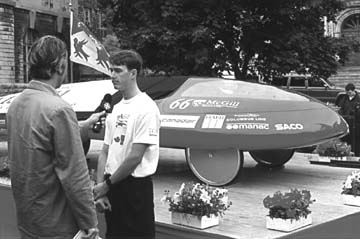 Student Bernard Vachon is interviewed at the June unveiling of McGill's latest solar car.
by Daniel McCabe
Mechanical engineering student Shiraz Adam is looking forward to flying to Australia tomorrow, if only for a change of scenery. Adam and 49 other students from the mechanical and electrical engineering departments have been spending most of their time lately holed up in engineering laboratories, fine-tuning the solar car they've been perfecting for several years.
"We've been living in these labs, sleeping in them. I don't really want to think about all the hours we've spent there," says Adam.
The students are off to take part in the world's most prestigious solar car race, the World Solar Challenge, where they will pit their sun-powered automobile against cars from Honda, General Motors, Renault and other engineering schools in Canada, the U.S., Europe and Japan.
"This is what we've been building up to for the past three years," says Adam. He's one of three students who will be driving the McGill car across 3,000 kilometres of Australian desert. "One thing we don't have in our car is an air conditioning system. I think I'm going to lose a few pounds," says Adam.
The solar car project began in 1994 when some engineering students--looking for something interesting to tackle for their design courses--were inspired by a group who had built a solar car a few years earlier.
That team of McGill student engineers designed, built and raced Quebec's first home-grown solar-powered vehicle. Team Ra Power won the 1993 Canadian Solar Challenge and was the top Canadian finisher in the previous world solar car championship in 1993. The team also received seven national and international awards and prizes.
Adam and his fellow students decided to update the project and build a new solar car that would be faster and lighter than its predecessor. Former Team Ra Power members served as advisors for the project, as did some engineering faculty, including mechanical engineering professor Larry Lessard.
"These students really did their homework," says Lessard. "They've built a very well-designed car. It has features that I doubt we'll see in too many of the other cars taking part in the race."
In fact, in a recent competition involving other Canadian student-built solar cars, the McGill team--dubbed Northern Sun--earned top prize for best automobile frame design.
"The car actually has very little metal," says Adam. "We've made it very lightweight, but still quite durable." Much of the car is constructed from carbon fibres and kevlar, the material used for bullet-proof vests.
The car has to be lightweight, explains Adam, because the solar cells used to power it don't produce a great deal of energy. "A regular car has about 100 horsepower. Our car has about two or three horsepower. That's enough energy to operate two hair dryers," explains Adam.
That might not sound like much, but the McGill car manages a top speed of 110 kilometres an hour. "The fastest solar cars, built by Honda and General Motors, can go up to about 150 kilometres per hour," says Adam.
Apart from actually building the car, the students--supported by engineering development officer Bruce Hill--also had to raise thousands of dollars from corporate sponsors like Bombardier, Canadair (which supplied facilities, materials and technical support), Columbus Shipping Lines and Hydro-Québec. A new sponsor, the Discovery television network, is lending the team camera equipment to film their adventure down under for a future broadcast on their flagship series, @discovery.ca.
"The students have made all kinds of good contacts and they've learned all sorts of things that don't have to do with design--how to fundraise and get publicity, for instance," says Lessard.
Part of the students' mission is also to spread the word about the benefits of solar energy and about engineering studies. Adam is one of several Northern Sun members to have visited Montreal high schools. "When I start talking about the solar car, that grabs their attention. They think it's cool and they want to know all about it."
Each student on the team has poured hundreds of hours into the project and Adam says they've paid a price for their involvement. "Our marks in our other courses have taken a beating," he admits. Lessard says it will all be worth it in the end. "They've learned how to take a major engineering project from start to finish. There are engineers in the workplace who don't get to take on a project of this magnitude for years."
For the students' part, they're grateful to their sponsors and to the mechanical and electrical engineering and physics departments for lending tools, lab space and advice.
The race begins October 27 and although Team Northern Sun's budget pales in comparison to some of its competitors--"We spent about $200,000, Honda spent about $2 million," says Adam--the McGill team expects to do well. "We want to crack the top ten," says Adam. "Honda and GM have a lot more money, but we've got a great car!"