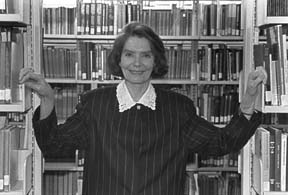 Her colleagues throughout the country have just named her one of Canada's top university librarians. Given the challenges she'll have to face over the next five years, she'd better be.
Just days before she began her duties as McGill's new director of libraries, Frances Groen received the Canadian Association of College and University Libraries' prestigious Outstanding Academic Librarian Award. An auspicious start to her new job to be sure and one which colleagues say was well deserved. "McGill couldn't have chosen a better director of libraries," says Richard Green, who holds that position at the University of Ottawa.
Groen takes over the libraries as they begin a profound transformation. The McGill library system of the near future will have a more technological approach to accessing research materials, closer ties to other Montreal university libraries and fewer staff. Groen is a hearty proponent of the first two trends, but has serious reservations about that last characteristic.
Like all McGill departments, the libraries face painful budget cuts in the months ahead. What sets the libraries apart, however, is that the University wants those cuts to be focused on the staffing side, so that the libraries' ability to preserve and add to their collections will be protected.
"I am grateful the University committed itself to improving the libraries' collections," says Groen. "But this notion of staff versus collections--I'm not happy with that dichotomy. When the libraries cut staff, we all pay a price. Our ability to deliver information to our users suffers as a result. Already, the reference desks are inundated--we don't have enough staff to answer questions on demand. And library hours have been cut."
Groen lost 15 staff members as a result of the University's recent early retirement offering. Some will be replaced by McGill employees currently on placement transition, but clearly Groen has to plan to get by with fewer staff.
She is hoping an in-house training program developed for her staff will help them cope with new sorts of responsibilities as duties get reshuffled and new technologies alter old ways of doing things. In fact, Groen is counting on technology to lend a hand. For instance, newly installed self-service checkout machines should relieve some of the pressure on circulation desks straining to cope with long student line-ups (see People & Places for more details).
The University's desire to bolster library collections finds at least part of its genesis in the annual Maclean's rankings of universities. When Maclean's began the exercise five years ago, the magazine quickly zeroed in on McGill's library collections as the University's Achilles heel. The quality and size of the collections no longer measured up to Canada's other top universities. A 1992 cyclical review of the libraries largely supported Maclean's criticisms and in response, the University has directed millions of dollars towards improving the libraries' collections.
While this recent support pleases Groen, she is quick to point out that library collections can no longer be measured strictly in terms of books and journals. Increasingly, CD-ROMS, electronic databases and other technological tools enter into the mix.
"The University has to realize that we need more hardware and better equipment to properly offer these resources," warns Groen. "A history professor might ask us to help him get out-of-date print materials for his work, while medical students want rapid access to full text articles in online medical journals. We have to respect both sides of that equation."
The increasing use of technology will better enable the city's libraries to work together, predicts Groen. For example, researchers at one university will have quicker and easier access to listings of the other universities' library holdings.
Groen admits that in the past, she was a little skeptical about how McGill could profit from closer links to the other university libraries. McGill lent far more books than it borrowed, for instance.
"My thinking has changed. Things are very different than they used to be. All four universities are faced with the same sorts of financial constraints. To plan effectively for the future, we really have to cooperate."
One way the libraries could profit from closer links would be if they banded together to negotiate better deals for scholarly database site licenses from online scholarly publishers, says Groen. The same publishers who demanded exorbitant rates for scholarly journals are currently moving into the electronic realm and Groen thinks university libraries have to act now to ensure that the rates for online materials won't be priced outrageously. "Yale and some of its sister universities worked closely together to negotiate better deals. We need to follow that lead and be a bit more shrewd."
Despite some of the rumours floating about, Groen says don't expect a "super-library" merging the four universities' research collections any time soon. "As the Macdonald report noted, the costs alone of merging the collections under one roof would be staggering," says Groen. "What we will see is a virtual library where we'll have much better access to one another's collections."
McGill's libraries didn't fare particularly well during the University's just-completed Twenty-First Century Fund capital campaign. The University hoped for $20 million in donations, but garnered less than half that amount. Do the disappointing results mean that libraries aren't of much interest to donors?
"I don't happen to believe that," asserts Groen. "I think libraries are a most attractive area to support." Citing a recent Statistics Canada report which indicated that better educated people tend to be very fond of reading, Groen says, "these are the people we need to talk to--people who benefited from an education and who understand and appreciate books. I'm anxious to do more work on that front." Groen's colleagues expect her to be an enthusiastic and effective fundraiser. "She's quite skillful and resourceful in that area," says Islamic studies professor Eric Ormsby, Groen's predeccessor.
Library users aren't hesitant to tell Groen and her staff the sorts of things they think the libraries should be adding to their collections. What she needs, Groen says, is advice of an entirely different sort---where should McGill's libraries scale back?
"As the director, I get to sit on all sorts of committees now and I get to hear about all the new things McGill departments are getting involved with. What I don't hear, from department chairs for instance, is the sorts of things their departments willcease to do."
Adds Groen, "I want the University community to treat the library system as a full player in the planning of academic programs. I don't want departments thinking they can micromanage the libraries, but I do want them to tell us what their priorities are."
The right woman for the job
Frances Groen joined McGill's library system in 1973 as the life sciences area librarian, a position in which she made quite a mark--in 1988 she became the first Canadian in over 50 years to be elected president of the Medical Library Association.
Prior to joining McGill, Groen worked as a librarian at the University of Pittsburgh, Stanford and University of Toronto. She completed undergraduate degrees in Arts and in Library Science at the University of Toronto and earned a master's degree in the history and philosophy of science from the University of Pittsburgh, where she also completed the course work towards a PhD.
"She still has a keen interest in the history of science," says Eric Ormsby, the former director of McGill libraries. "She was always recommending good books to read on that subject."
Groen is known as a big proponent of using technology to improve libraries. "Fran saw that coming a long time ago," says McLennan librarian Margaret Monks. "She's worked hard to try to get the proper resources in place."
While Groen is well aware that number crunchers are hoping that automation will eventually enable libraries to pare down some of their costs, she says the real excitement is in how computers will assist scholarship.
"We can use computers to digitize precious and fragile old manuscripts, for instance," says Groen. "We can take a document that's almost always locked away because we're so afraid it will fall apart and make it widely available online."
The citation that accompanied her recent Canadian Association of College and University Libraries award stated, "Fran has a record of publications that many academics would envy." It added, "Fran has a record of leadership in the promotion of libraries and librarianship that is second to none." The University of Ottawa's Richard Green agrees. "Fran has a very deep understanding of all the issues facing university libraries--academic concerns as well as things like copyright and customer service issues. One of her great qualities is that she's also able to articulate these things to all sorts of different people.
"These are difficult times for libraries," adds Green. "Fran is exactly the sort of person a university needs to head its library system."