McGill's Faculty Club is getting the full spit-and-polish treatment in preparation for a 175th Anniversary Ball to be held on Saturday, October 19. Formerly the home of sugar magnate Alfred Baumgarten, the Faculty Club is one of the University's treasures, albeit a slightly tarnished one. The building's age (it was constructed in two stages between 1885 and 1903), means that the wiring is fraying, plaster moulding is deteriorating, and fittings like air conditioning and sprinklers are non-existent.
In 1994, the architectural firm of Gersovitz Becker Moss, which specializes in the restoration of historic buildings, was commissioned to prepare a room-by-room assessment of the club. Describing the overall appearance and ambiance of the club as "slightly frumpy," the report makes dozens of recommendations to improve both the look and function of the club.
Professor Pat Wells, the Faculty Club's current president, would like nothing more than to implement every one of the recommendations. "There are chips and cracks everywhere. I hate to watch the slow decline, but it always comes down to the same thing--money. It's just so frustrating to have to do things one little bit at a time. Putting in air conditioning, for example, would be prohibitively expensive, but with it, the club could book more weddings and parties during the summer and earn more money."
Wells, who has been a member for 30 years, sees the role of the club on campus as critical. "It's really the centre of the community. Teaching and research are the two things we always hear about, but people aren't robots and the the social fabric of an institution is also very important."
With so much to do and so little money, the club's executive decided to do some fundraising, and the idea for the anniversary ball was born. Professor Beverlea Tallant chairs the committee organizing the ball. She is also a longtime club member and shares Wells's strong feelings about the place.
"I love to bring visitors here, even personal friends. People find this place a wonder and a treat," says Tallant. "My colleagues from the Université de Montréal--which doesn't have anything like this--always ask if we can have our joint meetings at the Faculty Club. So it's known and loved by faculty from other universities."
Tallant outlined some of the plans for the anniversary ball. "The focus of the evening will be a seven-course banquet. We chose seven courses because we decided to split the 175 years into quarter centuries. Each 25-year period will have a toast delivered by an invited speaker and there will be music appropriate to the era. We've researched old menus and will be serving some dishes that were popular at Faculty Club events years ago."
Tallant is working with the Club's new manager, Alfred Hirmke (see sidebar), to have suppliers provide services and food as cheaply as possible to maximize proceeds from the evening. A choral group from the Faculty of Music will perform, there are prizes to be won and, of course, there will be dancing. The cost of a ticket is $135. Those attending will get a tax receipt for a portion of the cost. Dress is black tie/evening gown, but guests are invited to wear historic costume from any period since the early 1800s if they prefer.
"It's going to be a wonderful event," says Tallant. "I can't think of a better way or a better place to celebrate McGill's 175th anniversary."
Under new management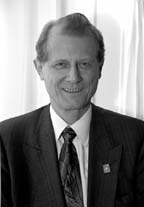 The man now in charge of the Faculty Club is one of the city's most experienced hoteliers. Alfred Hirmke, who comes to McGill after a 39-year career at the nearby Ritz Carlton, has also worked in Switzerland, Germany, France and Austria.
"I've done every type of work in a hotel from service to administration, and from the kitchen to purchasing" says Hirmke, so although he's been at his new post only since Labour Day, he already has some plans. "Of course I haven't established an exact list of priorities. But we have just re-opened the dining room with a new menu, and the club's wine list needs to be reviewed. That doesn't necessarily mean adding things that are very expensive, but a range of good quality wines. And there's a lot of work to be done for the 175th anniversary dinner. Just changing the light bulbs in the ballroom requires special scaffolding, so it becomes a big operation."
But Hirmke says that his main goal is more basic. "This is a very interesting building and the club has such a lot of potential. There is no reason why we should not have a full house every day. After all, professors and administrative staff have to eat somewhere. People tell me the club was used more in the past, and I will do everything I can to convince people to come back."
This is where the new manager says he'd like a little help. "I can imagine what people might want, but without feedback I cannot be sure. I would love to have comments from people letting me know what they like--or don't like--and what they expect."