Cheering for the home team:
McGill athletes head for Atlanta
by Daniel McCabe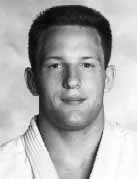 Keith Morgan
When the Canadian team marches in the opening ceremonies for the Olympic Games in Atlanta this month, Keith Morgan won't be participating. It's not that Morgan, Canada's best male judoka in his weight class (95 kg), isn't proud of his country. But Morgan is heading to Atlanta with a specific purpose in mind and he doesn't want any distractions.
"I want to stay focused on my event. I'm not going (to Atlanta) just to be able to say that I took part in an Olympics. I want to bring back a medal," says the McGill anatomy student. "I don't want to get caught up in all that hype until I'm finished competing. Then I'll have the rest of the Olympics to hang out and see what it's all about." Niki Jenkins, a cultural studies student who is also aiming for a gold medal as part of Canada's judo team, takes a different view.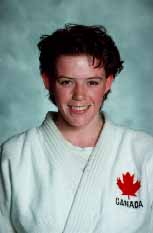 Niki Jenkins
"I want to take part in the opening ceremonies. I think it will help me get more focused. I'll be there thinking, 'This is why I'm here.' My adrenaline will be pumping." Of course, there are other factors to consider. Jenkins, the country's top-ranked female judoka in the 72 kg class, hears the temperature at the opening ceremonies might hit a blistering 44 degrees Celsius. "If that's the case, I'm staying in my air-conditioned room and I'll just get focused there," says Jenkins with a laugh.
Morgan and Jenkins aren't the only McGill students who will be taking part in the Atlanta games. Science student Tina Poitras, one of Canada's best speed-walkers, will be there. So will fencer Dan Nowosielski, a master's student in the Department of Earth and Planetary Sciences. Sebastien Paddington, a geography student who competed with the McGill swim team this year, will be part of the Olympic contingent from Trinidad and Tobago.
In addition, several members of the McGill Rowing Team will represent Canada in Atlanta. Tosha Tsang, Alison Korn and Greg Stevenson, recent graduates who've competed as McGill rowers, will take part, as will Henry Hering, a McGill rowing coach. Bradford Crombie, a master's student in history, will be a spare on the Olympic team and will race if one of his rowing teammates is felled by injury or illness. Tsang, Korn and Stevenson are all past Olympic gold medalists. Tsang and Korn will race as members of the eight-woman squad, while Stevenson and Hering are part of the men's eight.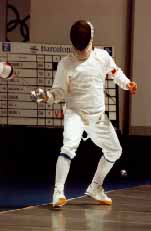 Dan Nowosielski
Remarkably, Nowosielski will be competing in his third Olympics. A 12-year veteran of the Canadian fencing team, Nowosielski has wielded his foil in many international tournaments. He says none compare to the Olympics in terms of its unforgiving intensity.
"When the fencing competition starts, you can drop a pin in the auditorium and watch everybody jump. The pressure is incredible." Skill is important, but the fencers who win medals are the ones who cope with the tension the best. "If you make one mistake, you lose your match and you're gone. You don't get a second chance."
As a youngster in Ottawa, Nowosielski played hockey and skied like most other kids, but fencing became his passion early on. "Any two kids who pick up sticks and have a 'sword-fight' would understand the appeal," he says.
He finished in eighth place at the World Fencing Championships this year and was in seventh position the year before. "If I'm at my best, I have a shot," says Nowosielski in appraising his medal hopes.
Morgan, who has been training in judo since the age of seven, took the last semester off from McGill to gear up for the Games. After winning a tournament in Italy and defeating the 1988 Olympic champion in the process, he had been feeling good about his chances for a medal in Atlanta.
Unexpectedly, another athlete challenged Morgan's selection for the team, claiming his own record made him eligible over Morgan. The two met in a hard-fought, winner-take-all showdown last week which Morgan won.
While admitting afterwards that having to peak for such an important match just two weeks before the Games might take something off his form, the Calgary-born Morgan has lost none of his determination. "I've spent a large part of my life getting ready for a shot at the Olympics. It's one of the biggest things that I'll ever experience."
At 5'9", he tends to be one of the shorter men in his weight class, but he doesn't think his size is much of an issue when he steps onto the mat against an opponent. "I'm usually the smallest (competitor) in the division," Morgan said in a previous Reporter interview. "But I'm also one of the quickest."
Jenkins, a native of Selkirk, Manitoba, almost gave up judo at one point. She was too good at it. "I was getting bored. I would practise, then go to a tournament and win. That was the routine. There wasn't much of a challenge." Then she made the provincial team and started to compete on a national level. "Suddenly, I wasn't winning anymore and that got my competitive juices flowing. Also, I caught the traveling bug."
For the past four years, she has been the top-ranked Canadian woman in her weight class. This will be Jenkins's first Olympic experience and she isn't quite sure what to expect. "I keep hearing that the food will be absolutely amazing. There's a rumour that Arnold Schwarzenegger will host a party for all the athletes. Every athlete in the world looks forward to the Olympics. It's the pinnacle of your career."
Photos courtesy of Canadian Sport Images