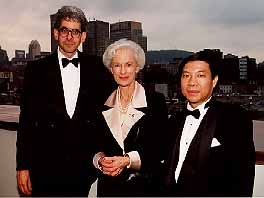 Frederick Lewis Appel, Gretta Chambers and Zhiguo Wang
A credit to their town
Chancellor Gretta Chambers received confirmation of something her friends and admirers suspected all along--she is a Great Montrealer. Chambers was formally inducted into the Academy of Great Montrealers last month, along with author Arlette Cousture and businessman Serge Saucier.
Run by the Board of Trade of Metropolitan Montreal, the academy celebrates the achievements of individuals who have helped bolster the prestige of the city.
Other members of the academy include former prime minister Pierre Trudeau, business leaders Charles Bronfman, Paul Desmarais and Jean Coutu, playwright Michel Trembley, conductor Charles Dutoit and hockey legend Jean Beliveau. New academy members are selected in a vote amongst the current members of the academy.
Chambers is credited with being one of the province's first anglophone journalists to take a serious interest in francophone Quebec. A weekly columnist with the Gazette and a frequent political commentator on CBC Newsworld and CBC Radio, Chambers chairs the Quebec Ministry of Education's Advisory Board on English Education and the McGill University Montreal Children's Hospital Research Institute.
The academy also recently handed out its annual Prix d'Excellence for outstanding doctoral research by graduate students enrolled in Montreal universities. McGill scholars took two of the four awards.
Political science doctoral student Frederick Lewis Appel won for his thesis on Frederick Nietzsche, arguing that although Nietzche is celebrated for his claim of being "beyond good or evil," the German philosopher did in fact distinguish between higher, admirable types of behaviour and lower, contemptible ones. Appel belives that Nietzche sought to promote the former, albeit by favouring a gifted elite of "higher" humans.
Zhiguo Wang, who worked on his PhD in the Department of Pharmacology and Therapeutics, was also singled out. Wang's thesis examines cardiac electrical activity. His research helped identify a potassium ion channel in the human heart that plays an important role in governing cardiac electrical activity and Wang also assisted in identifying the gene that encodes for this newly dicovered channel. In studying several clinically used drugs, Wang and his co-investigators noticed a novel type of drug action that might offer improved results and fewer side effects in the treatment of cardiac electrical disorders.