James McGill came back to campus in the form of a robust bronze likeness as part of the celebrations of the University's 175th Anniversary. The slightly-larger-than-life-sized statue was unveiled at the June 6 Garden Party, which this year was combined with the annual Town and Gown reception marking convocation.
Dignitaries were dressed in costumes from the 1820s, arriving on campus in horse-drawn carriages and led by members of the Grenadier Guards and pipers from the Black Watch. The theme for the day was intended to recreate the spirit of James McGill's era. The weather was beautiful and the atmosphere was lighthearted as thousands of staff, graduates and alumni, along with their friends and families, roamed the campus taking in the cricket match, the croquet competitions, and entertainment both traditional and contemporary in the forms of juggling and jazz.
Capping the day was the unveiling of the founder's statue, presided over by federal heritage minister Lucienne Robillard. A gift from the McGill Associates, a group of Montreal-area professional and business people, the statue is the work of sculptor David Roper Curzon. Now firmly installed adjacent to Burnside Hall, named for James McGill's farm property, he appears to be striding towards downtown "to do good in Montreal" in the words of University historian Stanley Frost. Frost called the sculpture's installation a "splendid resurrection" of the man who fulfilled the roles of voyageur, merchant, magistrate, public servant and university founder.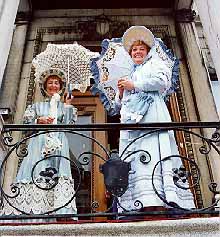 Photos clockwise from top left:
Principal Bernard Shapiro and Chancellor Gretta Chambers appeared to enjoy arriving on campus in 1820s-style transportation.
The Garden Party offered a variety of events, including a cricket match, lawn bowling, croquet, and a petting zoo for children courtesy of Macdonald Campus.
Education professor Phyllis Shapiro and Kate Williams, director of the University Relations Office, await their carriages on the steps of the Faculty Club.
Stanley Frost, director of the History of McGill Project, was on hand at the unveiling to say a few words about the University's founder. Frost is the author of the recently published biography James McGill of Montreal.
Dick Pound, chair of the Board of Governors (right), thanks McGill Associates president Alex Kalil for his organization's support of the statue project. Lucienne Robillard, the University's member of Parliament, was also on hand for the event.
Photos by Nicolas Morin and Jack Sullivan