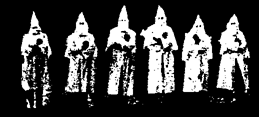 Exposing "Net Hate"
McGill Hillel's World Wide Web site has been garnering a lot of attention of late. The crisp design of the site listing Hillel activities is one reason. Another is the site's "Cyber Rabbi"--McGill Hillel Rabbi David Merling, whose wry commentaries on Judaism are a regular feature. Most of the attention, though, goes to the site's unique "Net Hate" web page which links the Hillel web site to some of the ugliest racist propaganda available on the Internet.
The New York Times, People magazine and Australia's Sydney Morning Herald have all done recent pieces on "Net Hate," the brain child of recent McGill law graduate David Abitbol, philosophy student Adam Sennett and law student Doron Goldstein.
When the trio were putting together the Hillel web site 18 months ago, they noticed a surprising number of sites run by racist skinhead groups, anti-Semites and white power organizations. "I thought to myself, 'Wow, do other people know this stuff is out there?'" says Abitbol. Unlike organizations such as the Simon Wiesenthal Centre which advocates restricting racist groups' Internet access, Abitbol, Sennett and Goldstein decided to highlight the fact that hate groups were active in cyberspace.
"For one thing, it's technically impossible to stop these web sites. As soon as one goes down, it just pops up somewhere else. We also don't believe in censorship--when you start banning things, it becomes a slippery slope," says Abitbol. "We would rather that people know these groups are out there than have them hiding in the shadows. We have enough faith that people will see these groups for what they are." "Net Hate" also has links to several anti-hate groups.
Some of the racist groups don't like the attention--Skinheads U.S.A. lists "Net Hate" in its "Communist Dirtbags and other Wankers" section--but the site has also led to some unlikely correspondence. "A lot of these groups call us wondering what we're up to. We make it clear that we disagree with their views, but we're always civil and calm. Sometimes the exchanges are almost friendly--they tend to admire our designs. Maybe some of these guys go away realizing that Jews aren't the power-hungry Christian-haters they fantasize about."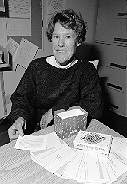 Global gourmet
Joanne Brais, a cataloguing editor in McGill's library system, has become something of an entrepreneur. Combining a love of both travel and cooking with her skills at organizing information, she has come up with a year's worth of exotic answers to the age-old question, "What's for dinner?"
Brais started globetrotting as soon as she finished university. "Some people raise families, some do PhDs--I travelled." Living in countries like Lebanon, Japan and South Africa for anywhere from a few months to a few years, she also began to try out and collect local recipes. After 20 years, she had quite a collection. "Like most people, I kept handwritten cards, then I began to enter them on computer." She contemplated putting together a book, but her cataloguing skills led her instead to devise a system based on her cards. The system was to make her life easier, but as friends discovered it, she was encouraged to put her card collection on the market.
This gave birth to The Globetrotting Chef, a boxed set of home-tested recipes from around the world. Brais has grouped recipes into 24 two-week periods, providing instructions for 10 main courses--with suggestions for side dishes--and two desserts. "There isn't a recipe for every dinner--I allow for days when cooking just seems like too much work." There is only one dessert in each week because Brais says she really considers them "frivolous and fattening."
She follows her own system, starting around Labour Day, since the colour-coded recipe cards (blue for fish, green for vegetarian) are also keyed to both weather and seasonal foods. In addition to simplifying decision making about dinner, Brais says she also wanted to "demystify" international cuisine. And although her personal favourite is Beef Rendang, a Malaysian-Indonesian dish ("couldn't be easier"), she also offers traditional fare like meat loaf. Has she ever met a meal she didn't like? "I spent some time in Finland, and I must say I didn't eat anything there that I would call memorable." The Globetrotting Chef is available at the McGill Bookstore.