Find It McGill links resources
Mark Reynolds | It may not have the same earth-shaking effect as say, Gutenberg's press, but Find It McGill has Diane Koen pretty excited. The software, which went online at McGill on January 5, has had great success at other university libraries in North America.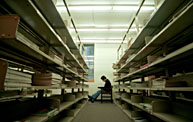 Owen Egan
"This service has had a more profound impact on students and researchers than virtually any other new library software released, because it brings it all together. It's the step we've waiting for," said Koen, the associate director of Information Technology Services for McGill libraries.
So what is so special about the new program? Put simply, it allows one-stop shopping for your bibliographic needs. Whereas before students looking for information on a topic would go to the relevant database to find a citation, then use that information to locate the article or book in the journals or MUSE, now they need only do a search once.
"What the Find It McGill service does is link those three resources — the research database, the full-text journals and MUSE," said Koen.
Type in your research request into the powerful software, and it will instantly link you to either full-text electronic articles on the subject (from one of the libraries' 14,000 electronic journals) or to the relevant MUSE citation.
The concept seems like such an obviously good idea, that one wonders why it wasn't done before. Koen explained that part of the reason was technological — industry standards have only recently changed so that "open URL" is common enough that a system such as this makes sense.
The Find It McGill (known as SFX off campus) software is designed by the same company that designed MUSE. It took months of intensive work to install and test it here.