Casino excitement attracts the elderly
HÉLÈNA KATZ | For most seniors heading over to the slot machines at the casino, gambling is an entertaining excursion. But for an estimated eight per cent, it's an addiction that could cost them their life's savings.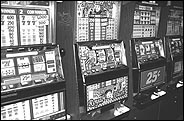 PhotoDisc

Seniors tend to favour slot machines over other games of chance in the casino, says educational and counselling psychology professor Rina Gupta, an expert on gambling addiction.
That's because "they don't trust much of computer technology. The numbers on the wheels they have to turn are big so they don't have to strain their eyes. It allows them to get out into the real world but there's no competition."
Research into gambling is still a relatively new field; statistics demonstrating the prevalence of problem-gambling among seniors are hard to come by. The eight per cent figure relates to the population at large.
More is known about why they gamble. "We realize it's an active group of gamblers and a vulnerable group because we're dealing with (physical and emotional) pain, loss, loneliness, lack of socialization," Gupta says. "They're escape gamblers."
American studies asking the elderly why they gamble have confirmed that the opportunity to socialize makes gambling particularly attractive to this group. The most common response is that "it's a chance to feel alive again, deal with loneliness and loss, and it brings them back to the days when they were young," Gupta explains.
Their need for social interaction also makes seniors a particularly vulnerable group. "They can unknowingly engage in risky behaviour before they realize they've lost a lot of money," Gupta points out.
Casinos provide seniors with a rare opportunity to socialize regularly and, particularly in the U.S., older individuals are courted by the industry.
"Casinos offer to bus them out, give them a meal and make them feel important," Gupta says. "Because they have a lot of time on their hands to fill and they are vulnerable, the industry is capitalizing on that."
Those who find it difficult to leave the casino without depleting their life's savings tend to have an addictive personality and impulse control problems. "These are people who tend to jump and buy something based on a TV ad or easily buy into the possibility of a big dream."
Elderly gamblers with Alzheimer's disease are "tremendously" vulnerable, Gupta points out, because they have no impulse control and can't rely on remembering the result of previous experiences.
Casinos aren't the only way to gamble. At a recent public presentation organized by the McGill Centre for Studies in Aging, some members of Gupta's audience mentioned that gambling now exists through the mail. One man recounted that he bought a $25 piece of jewelry through the mail and soon found himself on all kinds of mailing lists, some offering him a chance to win $20,000 for a $600 investment.
"It's another way of getting to people," Gupta says. "There are lots of get-rich-quick scams directed to the elderly. If this is the case, someone needs to be sifting through the mail and filtering out things that are inappropriate."
While no statistics are available to indicate whether elderly gamblers lose more money than other groups, given their revenue, it's likely they lose more proportionate to the amount of income they have.
Another difficulty is seniors' reluctance to seek help for a gambling problem. "Seniors are less likely to admit they are problem gamblers," Gupta says. "Remember, they went through the Depression without help from anyone. This is one of the main concerns with these gamblers, that they don't seek help."
Much public education and research needs to be done to encourage elderly gamblers to recognize addiction problems and get help, Gupta says. Family members who are aware of the symptoms and spot the signs in an older relative can talk to the person and encourage him or her to get help.
She also points to the need for counselling services for elderly gamblers. The Quebec government doesn't offer any free treatment for adult gamblers in the province, Gupta says. "The Quebec Ministry of Health has to be aware of the problems that result from the gambling industry and spend some money on it."